One of the most exhilarating and adrenalin pumped activities is shooting live ammunition with authentic real guns! Party Krakow has two such much sought after events, AK 47 Kalashnikov Shooting which has a choice of up to 5 different weapons and Clay Pigeon Shooting with 12 bore shotguns. Like any activity, there are shooting rules and regulations to follow which ensures maximum fun and safety for all. The rules are simple but require special care and attention. Regardless of what part of the world one is in, shooting ranges in Krakow follow a basic set of range rules and etiquette for both activities.
A 'cease fire' instruction means refrain from reloading and place weapon down safely. No participant is to pick up or touch a weapon during a cease fire. Each ceasefire will be regulated by the attending gun range instructor. They will ultimately be responsible for all shooting safety rules.
Shooters can only use the provided weapons and ammunition. Using another person's weapon or ammunition is forbidden.
Keep all conversation relevant to the task. Don't talk about anything that might disturb fellow shooters.
Always collect all used shells or casings after shooting session is finished (that said PartyKrakow clients don't have to worry about it- the shooting range service takes care of keeping the shooting range clean)
Guns can either be a great source of fun or danger, naturally, you must also be in a fit state in order to shoot. Follow the instructor's advice at all times.
Also, appropriate clothing and footwear is advised due to the hot shells after shooting.
Right, so the very important gun behaviour rules are settled then let the fun begin.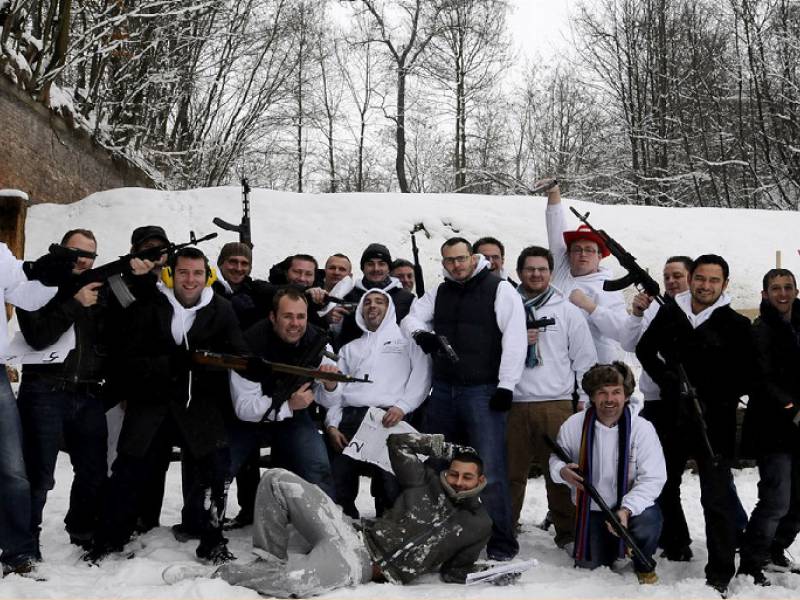 The AK47 Kalashnikov event has 3 different options available, 25 rounds + 4 different weapons, 55 rounds + 5 different weapons and 75 rounds + 7 different weapons. The weapons are, of course, the famous or infamous Russian AK47 Kalashnikov, a Polish Uzi, AKA 38 Revolver hand gun, Pump action shotgun, CZ75B pistol and a Glock pistol
Whatever option you choose all include return transfers and a Guide to accompany your group.
The AK47 Shooting is a most appealing event for groups especially if you have never used a live firearm, it is exciting and puts you in touch with your Alpha male side that you thought never existed, a true adrenaline ride firing all sorts of powerful and deadly weapons at targets which you can take away with you to compare with your mates to find out who is the best Rambo, James Bond or Leon!
You have probably seen Clay Pigeon Shooting in the Olympics and marvelled how accurate the competitors are or maybe you have some experience with shotgun hunting, this event has two options either 10 or 20 clays and cartridges. The sheer power of the kick back when you shoot makes you glad that you wore some shoulder padding, highly recommended. After 2 or 3 rounds you begin to get your eye in and when you hit a few the satisfaction is immense. Go for the 20 rounds if it's your first time.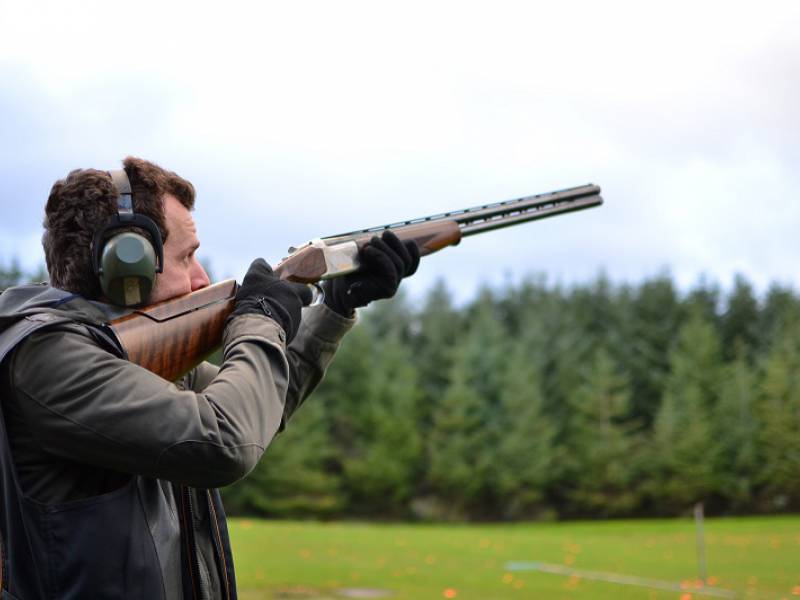 To continue with the shooting experience but with non-lethal weapons there is the ever popular Paintballing, so well-known it has leagues and competitions worldwide. Krakow's arena offer various scenarios indoors and out with all protective gear and equipment included. The excitement of urban, guerrilla warfare using tactics you saw on TV or in films brings your day to life, a fantastic mix of stealth, teamwork and shooting skill will make for a great point of discussion over a drink or 2 after. A similar event that uses compressed air weapons is the ASG Dogs of War air soft guns activity. Spend a few hours hunting each other in three different settings, the main field is the African shanty town which includes the use of semi and fully automatic weapons, go capture your opponents flag to win. The Village scenario is suitable for hand gun and semi-automatic engagement in terrorist close quarter combat situations and lastly, The Grasslands sector which is for your snipers to pit their wits against each other with long range shooting rifles some of which are single shot, so, make every shot count on this one. If you prefer to stay indoors then Laser Tags like paintballing holds international competitions, which was invented many decades ago with the computer age of games is another full on, high energy and fun packed game of shoot or be shot with various game themes such as the mirror maze room, escape rooms, and shooting range plus the laser room where you must navigate the laser beams without setting the alarm off. Certainly, whichever type of shoot 'em up activity you choose they all have one thing in common, excitement, immerse yourself in the adrenaline pumped atmosphere of protecting your team from your opponents, it is truly exhilarating.
Let's leave modern day weapons for a minute and highlight two events that involve a more rudimentary form of weapon from times gone by. The recent rise and trend of Tag Archery which is an outdoor good weather activity involving 2 teams of archers with bows and soft tipped arrows, there are defence obstacles to shield behind while trying to eliminate the opposing archers. The most difficult part is sending someone out to collect the arrows that have fallen on the open ground this is where your tactics count and it is such a laugh at times too. The final weapon based activity is the Viking or Braveheart Axe Throwing event. You heave different size axes and hatchets at a wooden target similar to a dartboard to score the most points with the bull's eye the highest point giver. Once you have mastered the throwing technique this game really pulls on your competitiveness and often evokes a guttural cry satisfaction.
Everyone that participates in the above activities is guaranteed to have had fun and felt an array of emotions that you don't experience every day and feel really good about it especially during the after event drink exchanging comments, moments and particular actions that occurred. Twas a day well spent you will all say.