Party Krakow's hugely popular shooting activities include some of the world's most famous and well known guns used by international military and police forces, elite commando special forces and surprisingly famous film character weapons. The most famous or infamous weapon in the world today is the Russian made AK 47 Kalashnikov assault rifle, usually portrayed as the favourite weapon for the opposing enemy in Hollywood films like Rambo, The Hurt Locker and other terrorist themed movies. The AK 47 is the most copied or counterfeited weapon across the whole world and used by over a 100 countries including oddly enough by a few American State Police Forces and the US Navy Special Forces.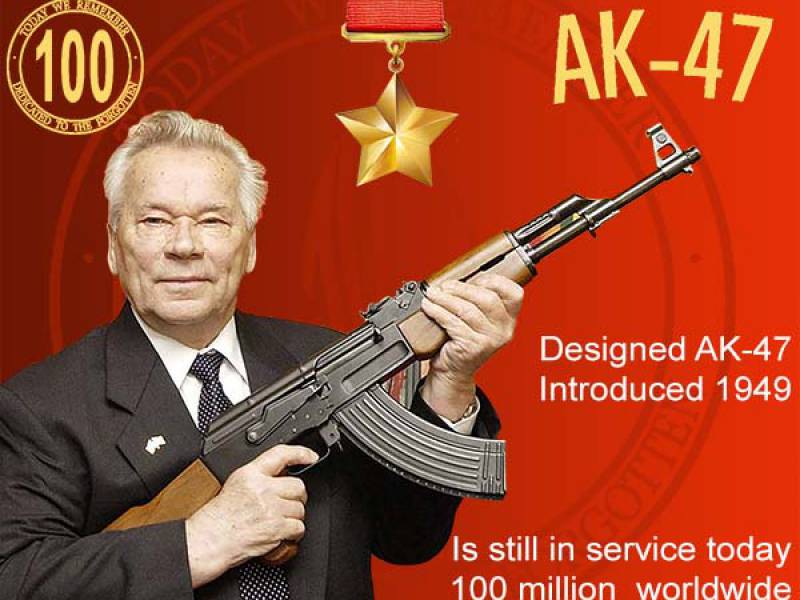 Lieutenant general Mikhail Kalashnikov a Russian soldier and engineer began designing the AK 47 in 1941. He had been wounded in the Battle of Bryansk and decided to use his engineering skills to design a weapon that is cheap to produce and be reliable in battle conditions and accurate when fired. The early prototypes were not chosen by the military until 1947 when the newly designed AK 47 with its distinctive curved bullet magazine that later on the Mexican drug cartels nicknamed the goat's horn. This version superseded the AK 46 and went on to become the icon of guns as we know today. The AK 47 has a 100% accuracy up to 300m dropping to 94% for 400m, the full range for this rifle is around 800m with single, semi and fully automatic settings. The highly honoured and decorated Mikhail Kalashnikov died in 2013 and his family still produce small arms and use the reliable and respected Kalashnikov name to re-brand or endorse merchandise such as vodka and specialist clothing. The name Kalashnikov is a household name throughout the world, if you are asked to say a gun name then almost certainly AK 47 will be the reply.
Experience the power and thrill of firing this automatic sub-machine and not only with one of 3 different shooting packages available with Party Krakow's AK 47 Kalashnikov Range Shooting activity.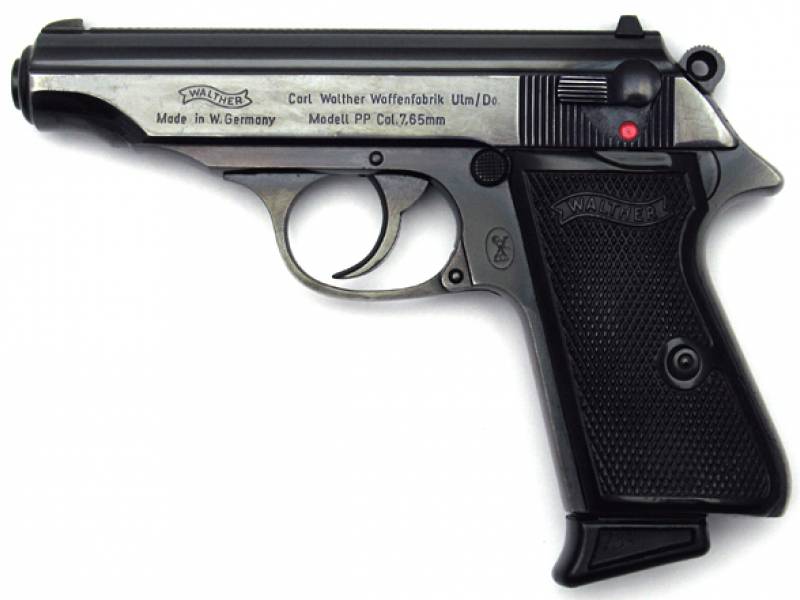 James Bond's preferred small arm is the German made PPK semi-automatic handgun, official issue to German Police forces. This pistol became popular when Ian Fleming introduced it to his character Secret Agent 007 in his novel Dr. No and was used in the subsequent film too. The PPK is quite small in dimensions and can be easily concealed about the body. Apparently, Adolf Hitler shot and killed himself with a PPK pistol in his notorious underground war operations centre the Berlin Führerbunker. The PP series has been in production since 1929 and like the Kalashnikov has been copied by many countries with Poland calling it the P-64 and Russia the Makarov. The designer Carl Walther opened his arms factory in 1886 and had a product range of air guns as well.
The James Bond Walther PPK is included all the Party Krakow activity packages which offer from 5 to 7 different weapons with 25, 55 or 75 rounds of live ammunition to unload on personal shooter targets to take away with you to brag about your marksman skills or burn if not too good.
Who hasn't seen a film with a pump action shotgun creating havoc, the slick one handed reloading often adopted by the actors, well, you too can create that exhilarating feeling of sheer joy mixed with adrenalin in reeling off in quick succession 5 or 6 shotgun cartridges at a metal target which sends back that ping sound when you hit it if you choose a Party Krakow AK 47 Kalashnikov Shooting activity. The pump action shotgun was, incredibly, first patented in the UK in 1854 by a chap called Alexander Bain, since then this quick fire weapon has undergone many design changes and today's modern style has a pistol grip and not the hunting style shoulder gun stock to accelerate the reloading with cartridge magazines. When you reload with the pump action the spent cartridges are expelled and add to the excitement of the rapid fire session, truly.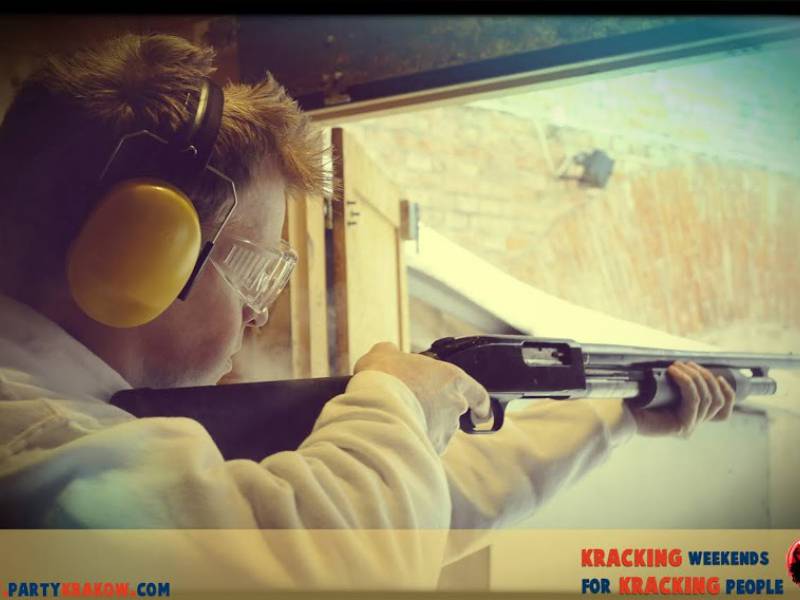 The Detective Pistol or Colt snub-nosed revolver .38 special, this hand gun as the title suggests is favoured by plain-clothes detectives and also a reserve weapon for uniformed police and used by bodyguards. A six shot rotating barrel and very accurate given it is a relatively small firearm. The Detective Special 38 has been around since the 1920s and has an illustrious film career with appearances with cinema greats from James Cagney, Humphrey Bogart, Cary Grant to Johnny Depp and Sacha Baron Cohen and TV series from Colombo to Stranger Things.
The Austrian Glock Pistol is unique for it polymer-frames as opposed to all metal guns. The Glock semi-automatic is popular among competition shooting competitors and is in service to the Austrian military and police force. The Glock Company started up in 1982 and quickly established itself with its lightweight series 17 and was voted 'bestseller' in 2020. This pistol has been held by some of the world's most sexy and alluring women in films and TV including Cameron Diaz, Halle Berry and Jennifer Lopez.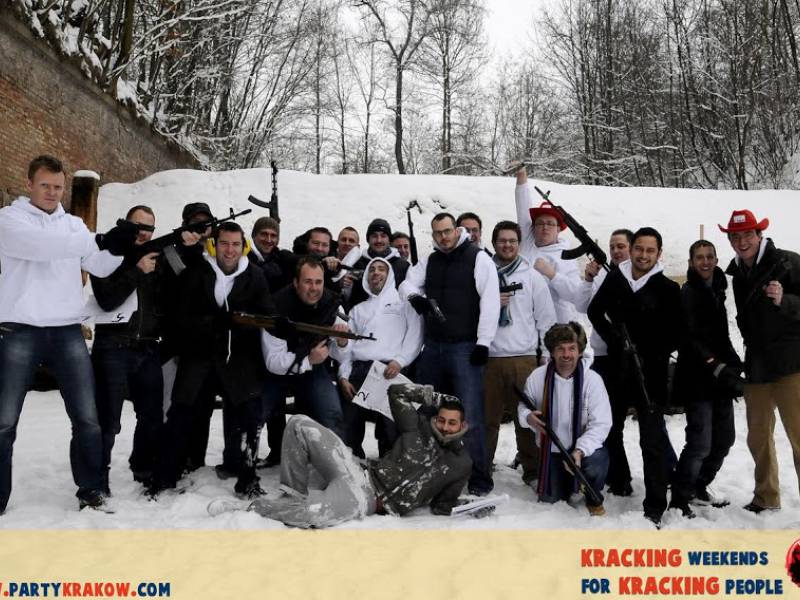 Gunpowder was invented in China in the 9th century and therefore the precursor to guns and artillery. The oldest gun in the world is the Chinese Heilongjiang which was in effect a hand canon and dates back to 1288. The next big event was the Gatling Rapid Fire gun used in the American Civil War this led to automatic weapons being designed to carry in hand as the Gatling was a heavy fixed station affair. In between those periods we saw the musket, arquebus, blunderbuss and flintlock all of which took a lifetime to load and re-load. Guns with more than one shot at a time had to be invented by military forces and the revolver style, carbine, then Luger, Browning, Thompson or Tommy Gun and today's modern weapons with the American M134 Minigun that shoots up to 6,000 rounds a minute or the high tech gun that can shoot around corners.
Party Krakow provide full services with their package deals of CC (Credit Crunch), Standard and Epic all with a Guide to accompany you, return transfers and qualified gun instructors. Apart from the set packages there is access to other specialist weapons such as the AR-15 assault rifle, Polish and Czech Uzi sub-machine guns. The AK 47 Kalashnikov Shooting activity is an eye opening experience and great fun for all the group.