Vodka has a long history and is one of the world's oldest alcoholic beverages. A form of 'vodka' existed as far back as the 8th century and continued to be used and refined for both medicinal and social drinking purposes. By the 15th century vodka appeared in north, central and east Europe known as the vodka belt countries mainly with a Slavic background. Poland has records of vodka being sold to Russia from 1405. The Middle Ages witnessed vodka being exported and more sophisticated distilling processes during the 18th century industrial revolution saw vodka become a mass production industry and exported worldwide. Vodka became even more popular commercially when in the early 1900s the ban on clear vodka was lifted. Since then vodka manufacturers have developed the production, distillation and searched to refine their products to the extreme that some vodka brands today can cost £millions for a single bottle.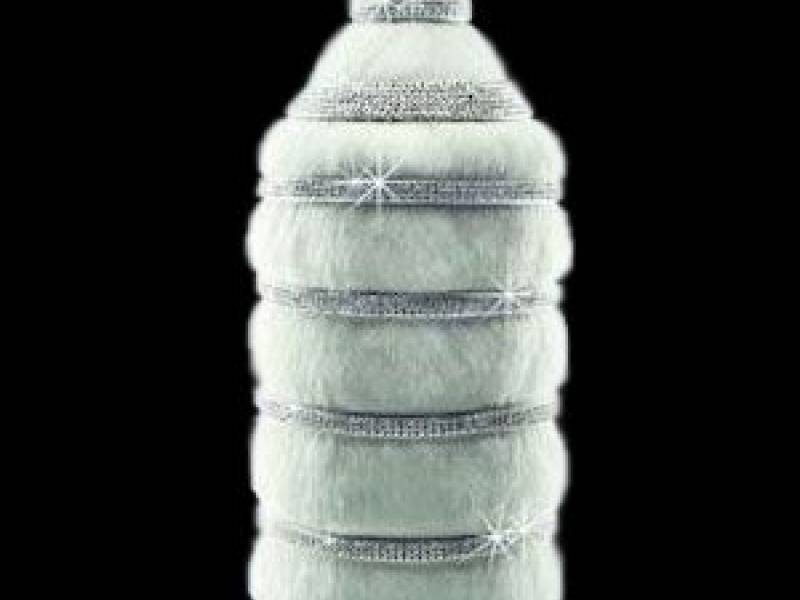 Billionaires Vodka Brand – This aptly named brand retails at a stupifying £5,200,000 a bottle. So, how do they quantify, verify or adjudge such a price for a single batch of vodka. The 18 litre presentation designer bottle is decorated with 2,000 real diamonds inlayed in gold and a black faux fur bottle cover and bottle cap along with a hand-crafted gold label. A normal bottle of vodka contains 70cl., therefore the diamond encrusted 18lt. luxury design bottle contains approximately 26x70cl. bottles but that still works out to an eye-watering £200,000 per bottle. The contents of the Billionaires Vodka is made by the French company Leon Verres which use the slogan 'It's good to be the King' on products which come with authenticated documentation and history. Apart from the mega-rich packaging this luxury vodka has some very expensive production methods in order to obtain the world's purest most refined elixir called vodka. The full secret recipe is not revealed but what we do know is that it originated in Russia. The preparation procedure uses the finest quality wheat and water that is filtered multiple times to obtain a most purified and crystal clear form then passed through Nordic charcoal and finally filtered through crushed diamonds and gemstones. Quite a unique process to produce the world's most expensive vodka that is hard to find as every batch is immediately sold out and bought by the world's richest. Although, it is available in less luxury packaging in selected venues and restaurants this incredibly sought after vodka tops the most expensive league. Leon Verres started this luxury designer company in 1934 and has marketed several products for the ultra-rich such as Billionaire Champagne and Billionaire Perfume. He also donates and takes an active role in charities supporting child poverty and animal welfare, hence, the faux-pas fur used. When serving Billionaire Vodka white gloves and a steady hand are advised.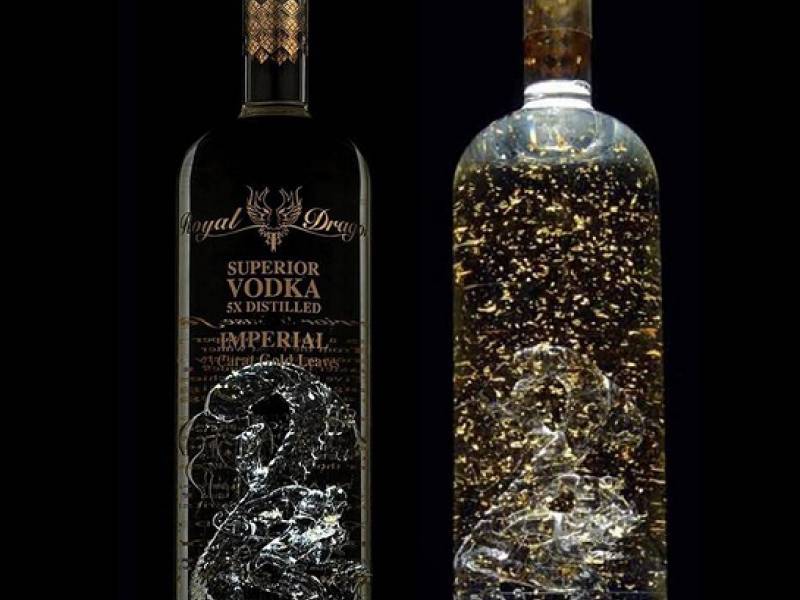 The Royal Dragon Imperial Vodka - A staggering £4,000,000 for 6 litre, The Eye Of The Dragon, this lavish brand of vodka made by the Dutch company, Dragon Spirits, based in Hong Kong, however, the vodka is produced in a Lithuanian distillery. The bottle is artisan glass blown with a small dragon inserted into the bottle and features a specially designed dragon bottle top with 50 karats of yellow diamonds and over 15k of clear diamonds inlayed in solid gold. The vodka goes through a stringent 5 tier distillation process using a special copper vat and finally Swiss gold flakes are added. The company uses winter rye to produce this smooth and distinctive vodka. Naturally, the Chinese nouveau riche clamour to buy this luxury brand which also blends in lychee fruit to batches for China's richest. Once again the packaging is spectacular and the eventual empty bottle will become a collector's dream worth millions. Less ornate versions are available to buy in gift sets and in selected upmarket venues.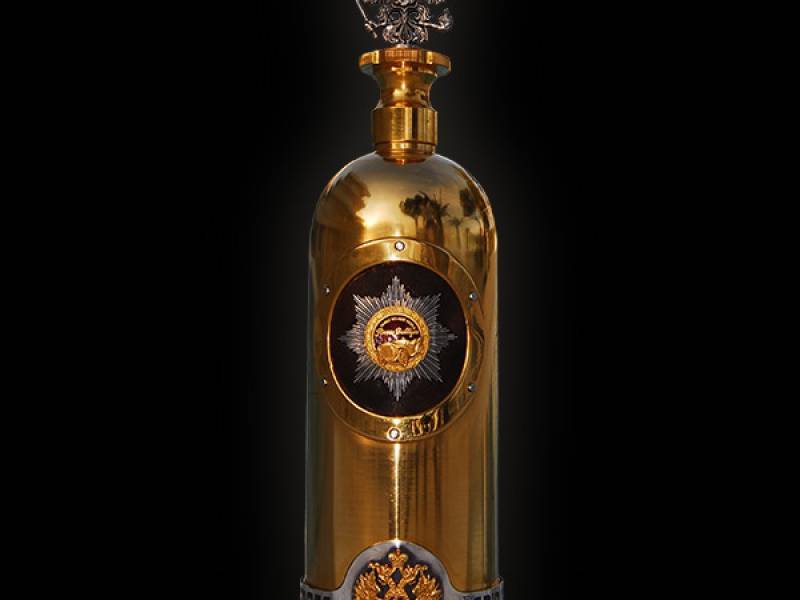 Russo-Baltique Vodka – A mere £900,000 for this absolute work of art bottle made in the form of a car radiator to mark the 100th anniversary of the Russo-Baltique Motor Car Company. The first ever bottle made with gold coins from 1908 to 1912 that signified the manufacture of the company's first motor vehicle was presented to Prince albert of Monaco at the Top Marquees Exhibition in Monaco. The bottle top is pure white and yellow gold with the Russian Imperial Eagle decorated with diamonds. The bottle is of bullet-proof glass covered in a gold layer. In the popular TV series, House of Cards, the Russian President gave vodka drinking tips to the American President with the famous Russo-Baltique Vodka featured in its full glory. In another incident, while on display in the Copenhagen Vodka Museum a bottle set was stolen but the empty bottle was later found on a building site, the thief must have been too drunk to cash in on this work of art and forgot the bottle worth almost a million pounds.
As you have read the contents of the ornate and super designed bottles seem to be of secondary importance, yes, the vodka is refined and undergoes particular production procedures to make a high quality vodka but nevertheless it is the packaging which claims the spotlight. So, here are examples of special designer packaged vodka brands that want you to drink the contents and use the bottle for other purposes.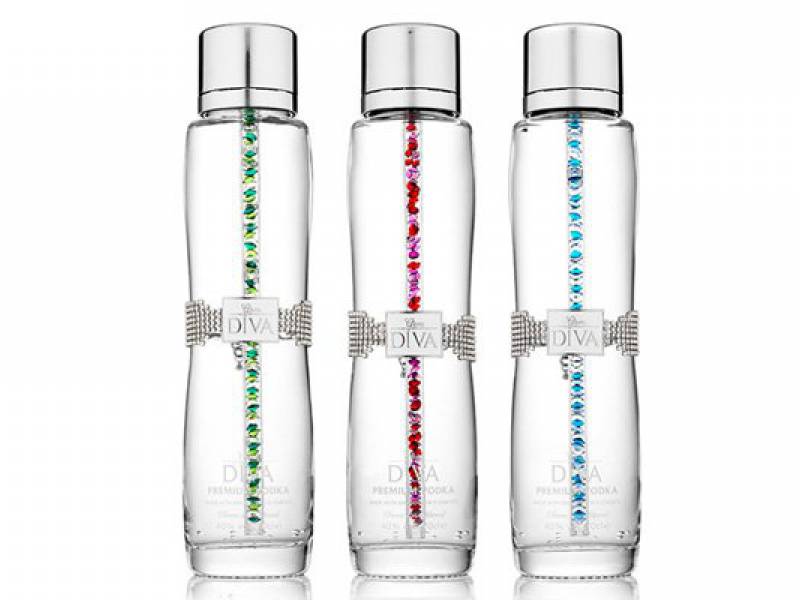 Diva Premium Vodka – This elegantly designed bottle encrusted with diamonds and other gemstones features a diamond bracelet around its middle which can be removed and worn while the inlayed diamonds can be removed and given as presents on special occasions. Their top of the range gift set weighs in at a cool £720,000.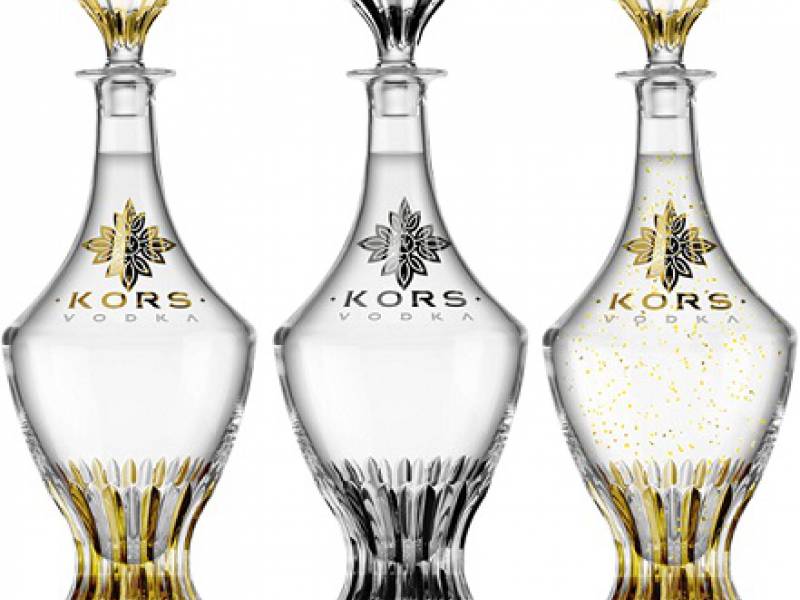 Kors Vodka 24k, George V Limited Edition – Only 240 bottles of this vodka were produced, so, the value increases even more as time goes by. Originally produced for Russia's Czar Nicholas II whose interest in vodka prompted him to actively take charge of the distilling process, ingredients and using water from the Italian Alps region. He wanted perfection and filtered the vodka through solid gold pipes and adopted the filtering with diamonds technique in the early 1900s which was consequently picked up by other luxury vodka makers. The Czar's vodka distillery process was given to his cousin King George V of England. The bottle is of an exquisite design and resembles a decanter with its ornate glass bottle top and gold leaf inlays, empty or full this bottle is a true work of art. The estimated value of this original vodka should you find one for sale is £17,000 or more. Today the Kors Vodka Company continue to produce the Czar's vodka in limited batches using the same decanter style bottle and gold pipe filtering process.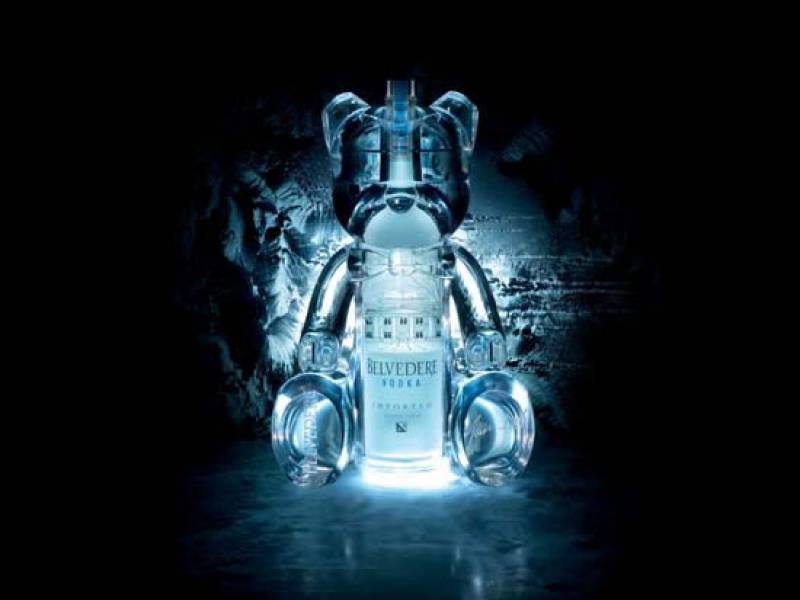 It seems fitting to end with a Polish vodka, this is from the Belvedere Vodka Distillery, this company has been producing rye vodka since 1910, it is one of Poland's finest super premium vodkas. In 2011 a special limited edition was presented at the Cannes Film Festival and drew a massive amount of attention as the bottle was designed to sit in a backlit 3 bears structure which really captured the attendees imagination. Belvedere vodka also appears in the James Bond film Spectre, the super premium tag means the chosen Dankowskie rye locally sourced is distilled 4 times to reach the required high standards that Mr. Belvedew set in 1910 when he opened the company. Winning the International Spirits Challenge 3 years on the trot, a grand achievement as each year over 1,300 entries compete for this prestigious title. The Belvedere limited edition Bear Vodka can be yours for a relatively small sum in comparison the above mentioned luxury vodkas at £5,200 a Bear bottle.
There are however many other great vodka brands, which won't ruin your Krakow stag do budget - on the contrary, you can try them here in Krakow for a fraction of the fraction of the price of vodka mentioned above during a vodka tasting session