Get the ultimate start of your Krakow stag night with the unique and luxurious Krakow Partybus. The vehicle is custom built, unique to Poland and built in conjunction with Partykrakow ! On board facilities include min.: leather sofas for 30 pax, sub lit remote controlled ceiling, 2 mini bars, 37″ flat screen, dvd, karaoke equipment, gaming console and the dancing pole.
Just imagine the look on the stag's face when upon arriving at your accommodation you step onto 'the nightclub on six wheels' where you can start your stag do in style with full use of the two bars, the latest tunes pumping out of it's top of the range sound system as well as a hot strip show. If there's any better way to start a party then we certainly are yet to find it!
With this Partybus package you get VIP nightclub entry worth even 20 GBP/pp if booked separately on its own.
When it comes to stately travel around Krakow, there are a few sweet options for the Krakow stag group. The obvious choice, for small groups, is an extended limousine of American origin. Pretty nice and very impressive to draw up to your hotel in such a car! 'Wow! Here comes Michael Jackson's uncle's cousin's daughter!'
There is however another, sweeter option for the discerning traveler who wants style, comfort and the status of anonymity.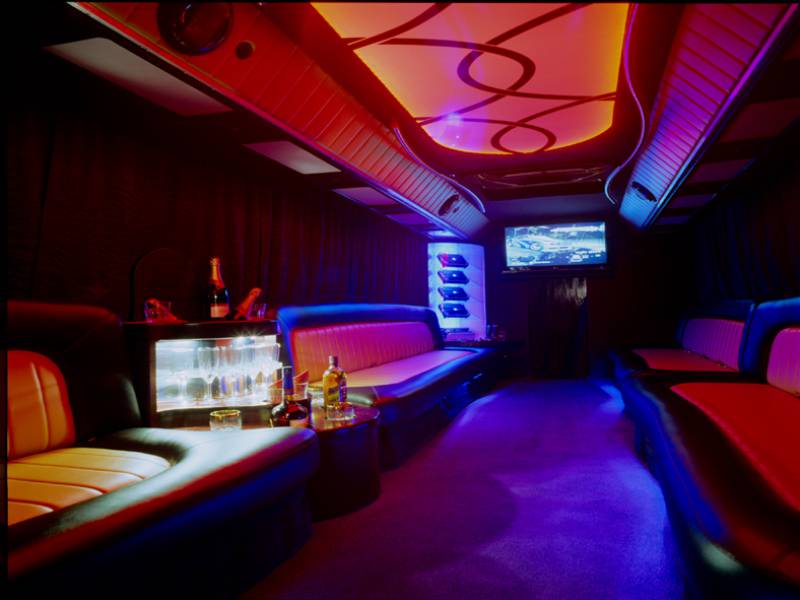 There is only one company in Krakow that has taken the trouble to produce a limousine that provides a classy ride without the squeaks and rattles of a Detroit-made stretch limo. With this company, you can forget the tinny limo idea and relax in real European style! It was originally engineered in Sweden, then brought to Krakow for its conversion, and then painted a lovely gold colour. The tinted windows guarantee privacy whist the boys can still see the delights of the city they are passing through, while the envious public have no idea of who is on board or what is going on.
Behold the Party Bus!
Originally built as a 64 seat international express, the lady now offers only 32 seats, all in sumptuously comfortable red hide. So grab a seat, stretch out and take a look around!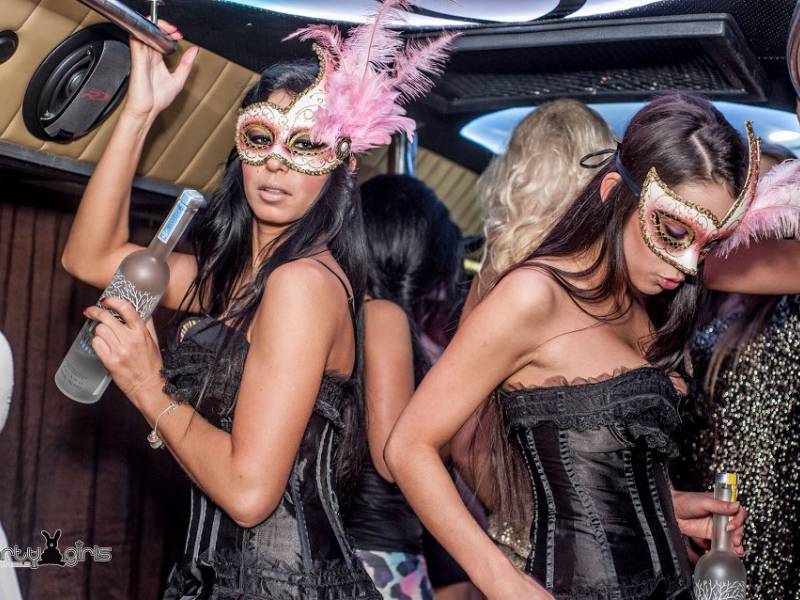 Above your head, you will see sub-lighting and cool decoration. Around you, you will see bars that sell beers at around a quid a pint and also vodka, bubbly and fruit juice.
Whether the stag group opts for this luxury as an airport pick up or as a city tour, the sound system is staggering – the bass will give you a balls in the mouth buzz that you'll never forget. On average, the drive takes 90 minutes, so there is loads of opportunity to invite a lady dancer to show off her goodies using the dancing pole that is kindly provided. Many Krakow stag groups opt for 2 or more dancers since, if the group size is of moderate size, the costs are comfortably low and the girls have the space to strut their stuff with style. The lads simply sit back, admire the view and neck into their drinks.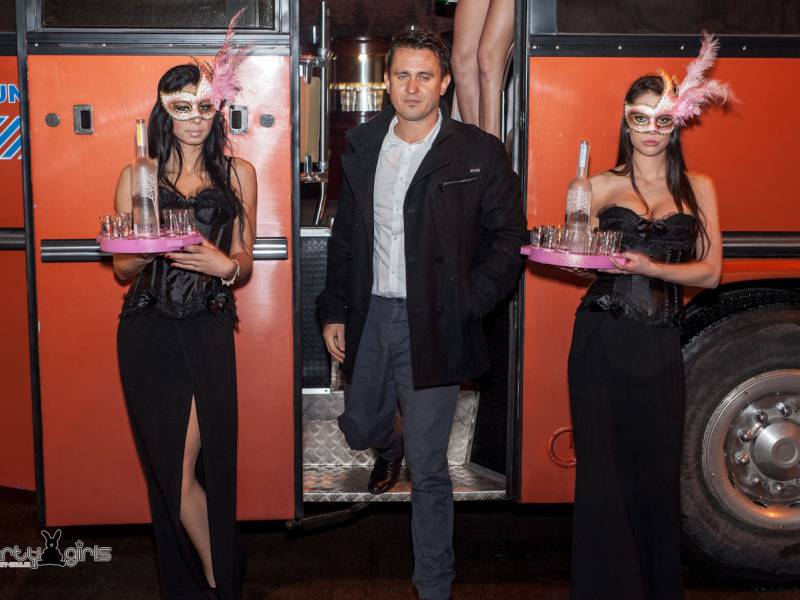 There is also a 37 inch flat screen plus a gaming console and karaoke. In short, this is the coolest way to travel in the coolest stag destination on the planet!