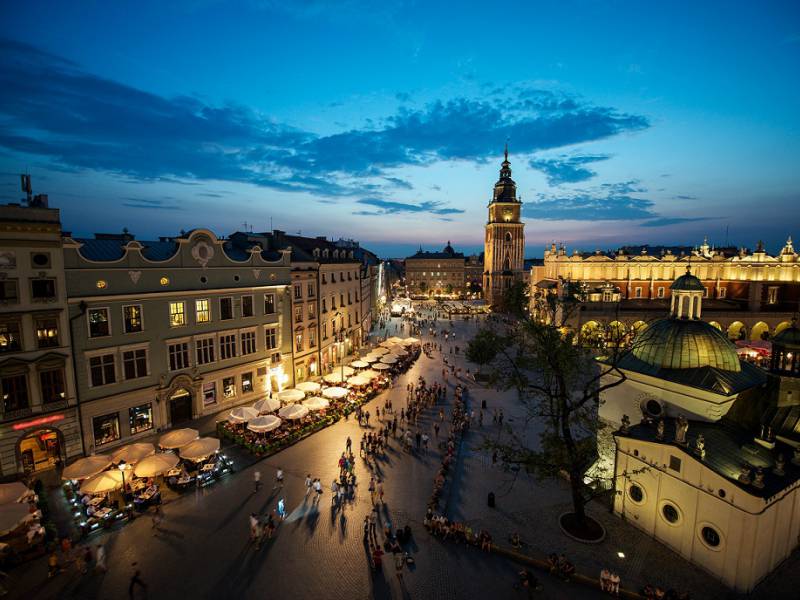 KRAKOW'S ABC - KNOW WHERE YOU ARE
Krakow - London 881 miles/1418 km
Krakow - Sydney 9756 mies/15701 km
Krakow - Cardiff 1013 miles/ 1631 km
Krakow - Shanghai 5074 miles/8166 km
Destination guidelines:
Time: + 1 hour
Visa ? Not required if you have valid UK passport
Flight time: About 2h 20m
Bus time: From London about 26h
Money matters: currently 1 GBP equals approx. 5 PLN (Polish Zloty)
Language ? Polish-this is one of the Slav languages and bears no resemblance to English that is recognisable. 3rd or 4th most difficult language for a foreigner to learn
Climate: continental. Cold snowy winters, uplifting springs, hot summers and golden autumns
Phone codes: Dial +48 for Poland, +44 for UK. Krakow prefix is 12 for landline numbers
Electrical problems ? Use an adaptor then none; Voltage: 220V
Opening hours: more or less as UK but bars, clubs and restaurants are flexible
Public holidays:
o New Year's Day- January 1
o Easter Sunday and Monday- no fixed date but in April
o Labor Day- May 1
o Constitution Day- May 3
o Assumption of Virgin Mary, Polish Army Day- August 15
o All Saints' Day- November 1
o National Independence Day- November 11
o Christmas- December 25 & 26
Embassies:
o United Kingdom: Warszawa, al. Róż 1, tel. (+48 22) 628 10 01
o USA: Warszawa, al. Ujazdowskie 29/31, tel. (+48 22) 628 30 41
o Ireland: Warszawa, ul. Humańska 10, tel. (+48 22) 849 66 55
SOME FRESHEST HISTORY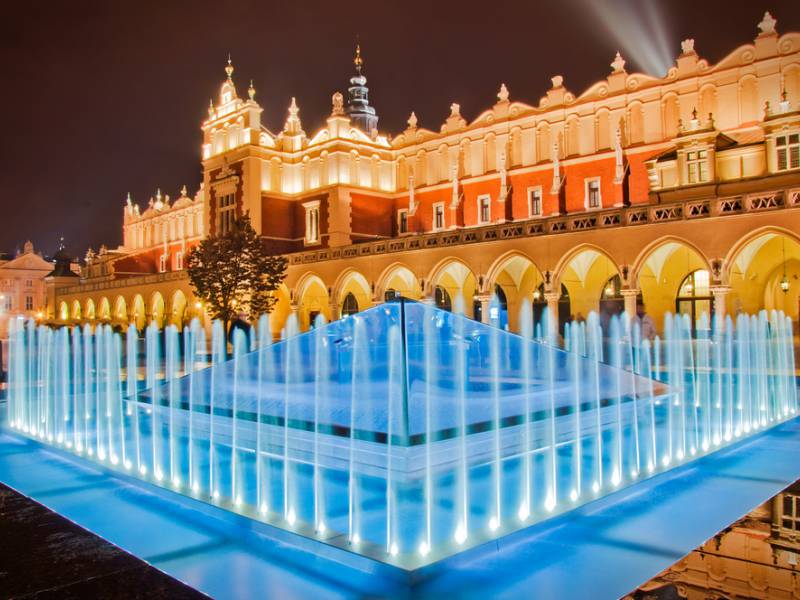 Krakow is the former royal capital of Poland and still remains its cultural heart. Since the fall of the Iron Curtain, it has been considered one of the best destinations to visit in the whole of Europe both for sightseeing and for partying. Its historic center is a major UNESCO listed World Heritage attraction. Medieval city walls and streets, gothic cathedrals and renaissance buildings plus the unique clubbing scene, make Krakow a winning combination of past and present. In 2018 over 13,5 million tourists appreciated its unique beauty and atmosphere. Despite this fact, Krakow still has an authentic feel mainly due to the very large student population which makes the city live its own life, bustling with parties and festivals throughout the year.
PRICES AND LOCAL CURRENCY
On average prices in Poland are two/ three times cheaper than UK prices. For what you would spend on one night out in London you can spend three days and nights full of entertainment in Krakow. For example, a pint in a good pub costs about 2 GBP, a pack of Marlboro is also about 3 GBP and a two course meal in a high street restaurant is normally about 10 GBP.
TRANSPORT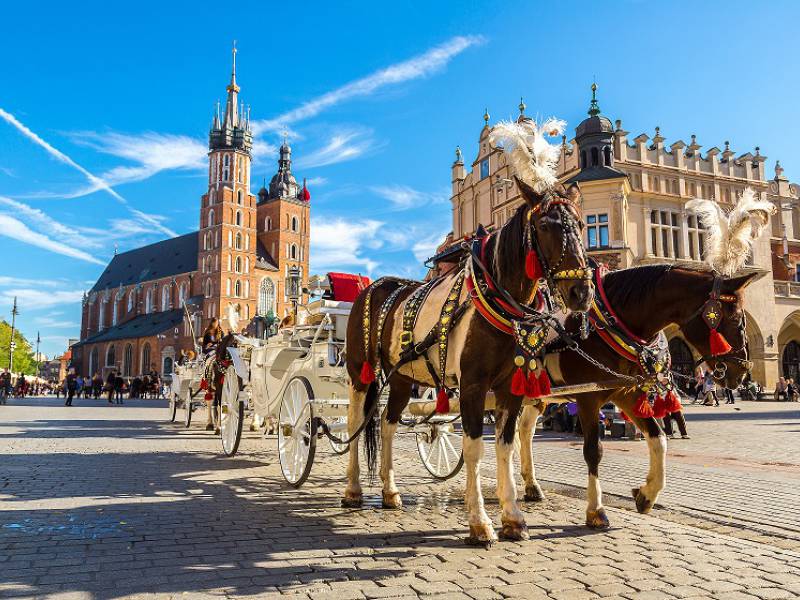 Taxis
There are 2 types of taxis, independent and contract. The independents should be avoided but contact drivers work for reputable companies and offer guarantees. To contact a contract driver, you need to speak Polish which is probably not the case !
Party Krakow has a pool of "tame" drivers which we supply in very special cases. If you are a large group but one or two arrive on separate planes, we will do our best to arrange greeted collection for them at their own cost. We do this purely as a service and we have no back to back deals with taxi operators. This service is labour intensive and is only available under exceptional circumstances. Please ask our guides to arrange taxis for you and then you will be guaranteed a civilised rate. Please do not contact Party Krakow office lines for taxi use while you are here, except under cases of genuine emergency
Trams & buses- public transport
Trams & buses are a useful way of getting around in Krakow. They are pretty regular and user friendly. One 20 minute journey costs 2.8 ZL, which is about 60 pence. Tickets are best bought at any pavement kiosk and the word is "bilet", pronounced "bee let", or at ticket machines
Trams & buses are identified by number, according to the routes they follow. Lists of destinations, stops and times are displayed at tram stops.
Once on board the vehicle, it is your responsibility to validate your ticket immediately by putting it into one of the numerous franking machines on the vertical hand rails. Don't be tempted to try to save the pennies for the transport. Spot checks are frequent and if you have no validated ticket, you will pay a fine of approx..15 GBP
There are also horse carriages if you fancy being driven around the city center... like a Lord ;)
DRUGS & ALCOHOL
Drugs
Concerning leisure drugs, the advice is simple- don't buy, attempt to buy or use illegal drugs during your stay here. These include cannabis, marijuana, cocaine, amphetamine, ecstasy, heroin and other opiates. You will probably be here for just a few days, so please leave these things at home. You will be severely punished for illegalities and Party Krakow will not be able to assist you, under any circumstances, if you are arrested for illegal drug possession or use.
Alcohol
Drinking is part of the normal Polish way of life and booze is available pretty much anywhere. Bars are open, usually till the last customer leaves but most never seem to close in high season. That said, when they are closed, most stags are examining the inside of their eyelids in the land of nod!
The most common drinks, and the cheapest, are beer and vodka. The beers are some of the best in the world and quite strong. Normal beers here are of the lager type and the weakest about as strong as Stella Artois. So beware!
Dark beers, or porters, are pretty nice but rather on the sweet side and a lot stronger. These are not recommended for weekend sessions, especially during the warm season (April - October) when they are a bit on the "heavy" side.
There are some international beers frequently available, like Heineken and Guiness. Both travel well and are kept properly here. The downside is that they are expensive by local standards.
Prices, depending where you swig, are about 10 PLN (2 GBP) for a pint of one of the many Polish beers.
Vodka here is the very best and has many different flavours. It is generally pretty cheap but also very strong. Prices depend on where you are drinking, but most places charge around 5 PLN (1 GBP) for 40 ml (a big one!)
Wine
Very good wines are common here at less than UK prices. But all depends on where you buy it. Please look at the wine list and prices before making a decision, especially with great vintages and champagnes. These are priced at the same level as in the UK and elsewhere in the EU. But never order wine without knowing the price as displayed on the wine list.
The items of advice are just matters of common sense and any reputable travel company would advise you similarly. Please remember, that the centre of Krakow is much safer than any town in Britain and enjoy your stay here. Once again, common sense is an international virtue and is the currency that pays for a good time wherever we find ourselves.
Food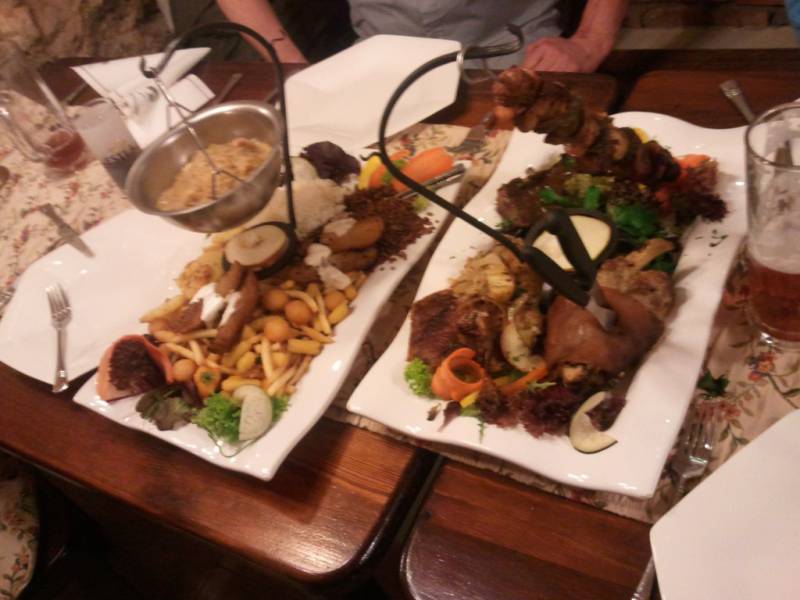 Food in Poland is so deeply embedded in its traditions that no Polish person, on fear of losing face, will let you go hungry. The Poles have a phrase which describes their duties to their lucky guests: "A guest in my house is like God in my house".
Restaurants here base themselves on two schools of thought. The first is the type of cuisine and the second the volume. The restaurants that we have deals with are user friendly in that the meals they serve do not prevent you from the evening activities. Meals are very well prepared and served and the tastes and flavours are recommended. So they are good, wholesome but not bloating.
Krakow is now probably the most successful and interesting city destination in the world. It deserves its reputation on any ground- its spectacular mixture of Mediaeval, Renaissance, Baroque, Austro-Hungarian and Stalinist architecture presents a snapshot of history that exists in no other city and its cuisine follows this history. Traditional Polish restaurant lie next to Greek, Italian, French, Indian, Ukrainian, English and others.
GETTING AROUND
Krakow is a compact city- this means that almost anything you would need to have good fun is located around the Old Town, like : clubs, restaurants, strip clubs. The city is famous for its vibrate nightlife with over 400 pubs and clubs around the center so there is no need to take a cab if you've booked a central accommodation. This also means that all you could possibly want during your stag gig is usually within 5 to max. 15 min walk from you. However we strongly recommend taking a pub crawl when in Krakow as with this number of venues it's not easy to find those really decent ones (which are also stag friendly) - so if you don't want to end up in some dumb place take the pub crawl with our lovely local female guides. Another reason for taking the crawl are the nightclubs. This translates to being not allowed to many places if your group is male only and/or large. Having a guide and the reservation booked through us can take this sweat off you. HOWEVER there are still some conditions- you may not wear trainers, short trousers, sport t-shirts or look completely intoxicated.
When it comes to strip clubs we don't recommend going there on your own as some of those clubs are apparently not really stag friendly and some happen to overcharge their cliebts. If you want to avoid it then book the VIP lap club entry with us- we've hand picked 2 of the best lap clubs in Krakow, where we know that prices are modest, the girls are hot, the drinks are cold and there is no ripping off !
WHAT ARE THE LOCAL BIRDS LIKE ??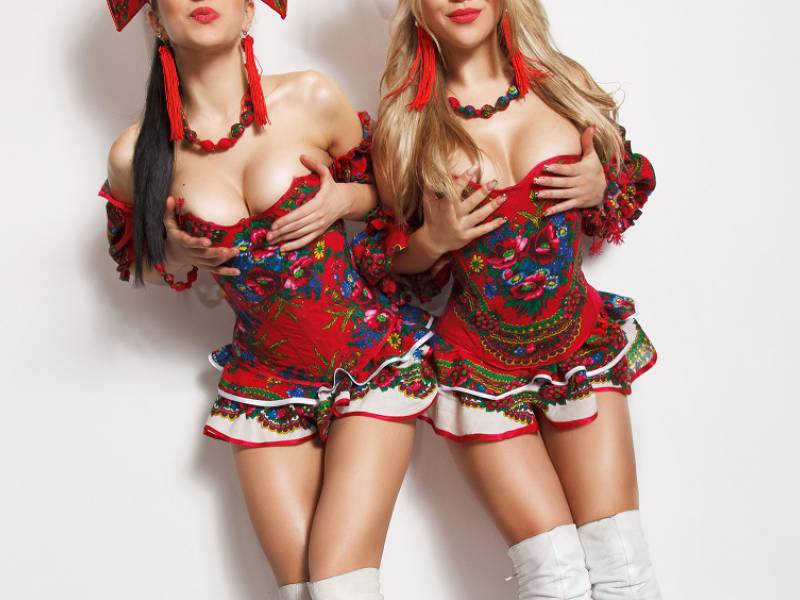 First of all they are fit... very FIT!! As they are of Slavic origin, they are slim, long-legged and really well shaped. They like to dress in up to the minute fashions, partying and meeting new people. 90% of them speak good or fluent English as Krakow is both a student and tourist city. When it comes to character, they are easy-going and fun lovin', but don't like impoliteness as they are smart and well educated. Bearing in mind their qualities, it's worth your while to behave like a gentleman. Of course there is always this thin line between acting natural and being artificial. But if you can deal with this, things will go the right way!!
USEFUL WORDS
Here are a few useful words for all the smarty pants that would like to impress girls with their ability to learn foreign languages, especially one as difficult as Polish. You may break your tongue in some cases but it will definitely make the local girls pay attention to you - and that is always a good place to start!
Cześć [tschesch] Hi
Jak masz na imie ? [yeak mush na emyea] What's your name?
Mam na imię... [mum na emyea] My name is...
Piwo [pe:vo] Beer
Dziękuję [dzeekuyea] Thank you
Jesteś piękna [yeste:sh peenkna] You are beautiful
Kocham Cię [koham cyeah] I love you...
Czy masz siostre ? [tche mush see-stra] Do you have a sister?
Mieszkam w pobliżu [meshkam v pobleezu] I live very nearby...
Gdzie jest toaleta? [gdze est toe let us] Where is the toilet?
Do zobaczenia [do zobatschenea] See you