A growing trend in many European cities is the rise of "Ruin Bars", instead of the shiny, modern design and brightly lit establishment Ruin Bars promote a more lived in feeling with rickety, non-matching furnishings, incomplete renovations, the run down or dilapidated effect and often candle lit snugs with sofas. Krakow has its own little and not so little gems for you to discover especially in the summer, the sheer pleasure of sipping a cocktail or downing an ice cold freshly brewed beer in one of Krakow's Ruin Pub & Beer Gardens is a most satisfying and feel good experience. The city's historical origins has many buildings that are perfect candidates for the increasing trend of antiquated, Olde Worlde and of bygone times style much in the same trend of wearing ripped or torn jeans. Some of them offer good quality food choices and some are set in surprisingly tranquil and secluded courtyards shielded from the main humdrum of Krakow's busy tourist season. So whether you are on a romantic visit or a Stag & Hen Party or just spending a weekend break here are some of the best and eclectic locations in the times gone by pubs, cellars and blue open air skies of Krakow.
Mr. Vavelsky Dragon themed Pub & Beer Garden
This beer garden has it all, perfectly located on the main square but out of earshot from the bustling noise of the passing crowds. A serene & comfortable garden atmosphere with its walls left nude when the courtyard workshop was demolished to create the only true open garden space within the main square area where you can enjoy a mojito or 2 with some great BBQ food cooked to order as if you were in your own backyard with friends. In the evenings you can catch a comedy show, live music and their unique The Magic of Vodka spectacular involving a magician and vodka shots. They also have the indoor cellar pub, the Dragon's Den if you prefer something a little more lively after a peaceful & well-earned rest from the day's activities with a nightly Karaoke event. Recommended the Mr. Vavelsky vodka tasting during your Stag & Hen Weekend.
Klub Re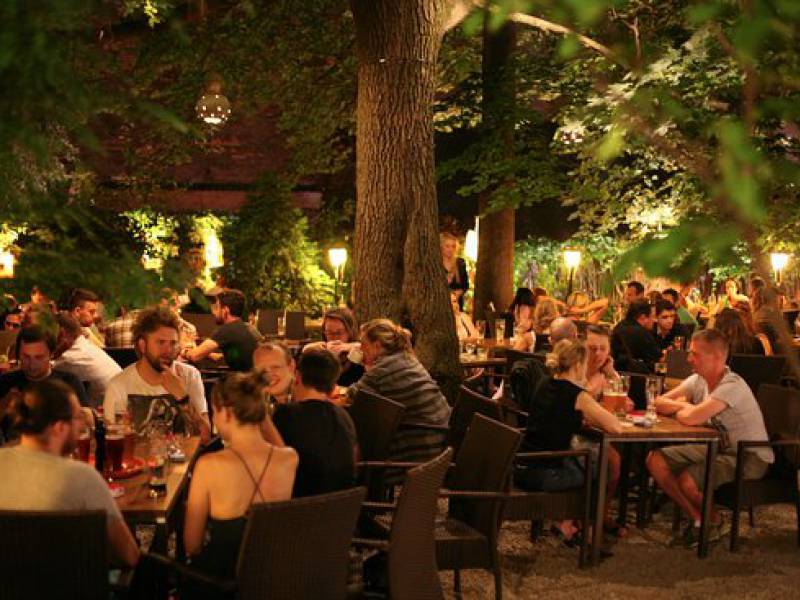 This popular garden retreat is next to Maly Rynek or the smaller square of the two Ryneks in the centre. A great place to grab a cool beer in the evening and chat about the day's events before moving onto further Krakow Nightlife activities. A secluded, tree filled garden with beer only being served in the garden with other drinks of choice being bought in the indoor pub section. It's a popular place for locals to chill out in the evenings.
Stara Zajezdnia by DeSilva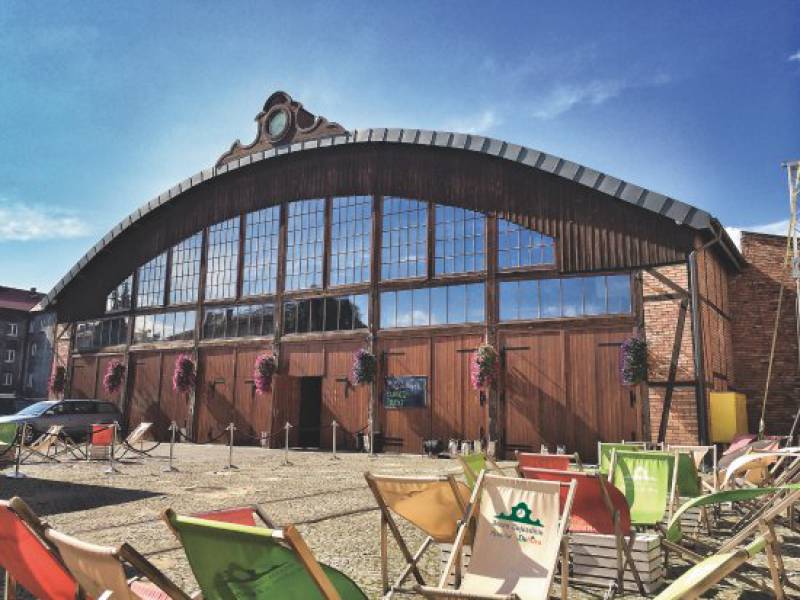 This big and spacious pub, brewery, restaurant and function hall used to be Krakow's tram depot which was opened in 1913 and then transformed into bus and coach maintenance workshops in the 60s later as a go-kart track to then be restructured in 2012 and operating today. The building itself was declared a historical monument in 1985 by UNESCO. Craft beers brewed on the premises and with the large halls for hire for corporate or private events or parties.
Music Club Forty Kleparz
This 19th century fort used to house the military forces but today it is a live music centre with open air gardens, music stages, DJs and dancefloors plus a movie theatre. Concerts are held in the open as well as indoors and several bars available as the fort covers 1,000 square metres. A most atmospheric venue with all kinds of attractions in the hallways of this glorious real life fort that was part of Krakow's defences in the past.
Dolnych Mlynow
Is a huge open air complex in what used to be a tobacco factory in the old days smack bang in the centre of Krakow, full of different pubs with indoor & outdoor seating. The various pubs offer mainstream & local brewery beers along with live music, open air cinema & theatre shows. You can pass a complete day and night there as breakfast, lunch and dinner is on offer indoors or out. Some added attractions are art studios and a tattoo artist. During the day there are fun activities for children and dedicated fashion & photography festivals. It is situated just outside of 'Planty' the circular walkway around the city centre, is approximately 5 minutes-walk from Rynek. It is very popular with people living in Krakow as well as tourists. Look out for these top rated venues in this sprawling complex of an old disused tobacco factory, Hala Glowna, one of the largest bars there and excels in the Ruin Bar style with a mix of modern and dive bar furnishings and décor. Plenty of choice for beer connoisseurs and on the entertainment side DJ Parties, movie night and a pizzeria if you feel peckish. Scena 54, attracts a slightly older person rather than students, it has that seemingly affluent spin whilst set in an industrial backdrop. Wezza Krafta has to be the trendiest place there with indoor and outdoor seating, the atmosphere is friendly as the drinks menu is one of the best. The Mash Room serves your cocktail mix in pitchers and jugs, the only venue that does this. They often bring in celebrity barmen & women to put on a spectacle evening, the venue loves unusual art especially psychedelic forms. Zet Pe Te is known for its live music concerts but also its two garden bars. Well known circuit DJs are billed on occasion and the venue is a perfect example of a Ruin Bar.
FORUM Przestrzenie
The Forum for short has a beach bar on the banks of the Vistula River. Deckchairs and loungers scattered on the sandy shore makes for a great day to bask in the sunshine watching the river boats sail by. Frequented by the younger generations in the hours of darkness also features DJ Parties, festivals and exhibitions. The Forum Hotel (4*quality) was considered an avant-garde design in the accommodation business during the Soviet era, built in 1978 the hotel has suffered a chequered history and closed in 2002 by Sofitel its last proprietors. Situated between the Old Town and Kazimierz it is a brilliant day and night time venue to visit for all age groups or in fact groups.
Opium (Kazimierz district)
The Middle Eastern vibe and atmosphere and unusually on the 1st floor of a town house but nonetheless it specialises in classical cocktails using exotic ingredients enhancing this Middle Eastern theme. The beer garden looks out over the area and has a dancefloor which is well frequented late into the night.
Eszeweria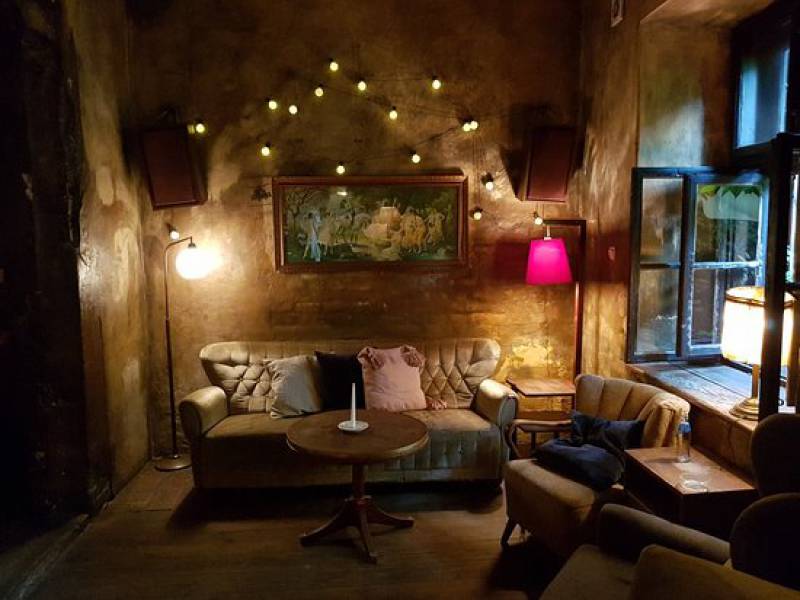 A most quaint pub with a beer garden situated in the rear of the pub. The antique style furnishings and sofas make for an intimate tete a tete style vibe although it is common to see groups of friends gathering there. The garden itself has a floral theme on a gravel surface with rickety furniture creates quite a special feeling in what is said to be one of Krakow's oldest pubs.
The vast choice available in Krakow for outdoor or indoor drinking and eating is well developed that's why Krakow has been nominated Best Destination to Eat with a full international culinary and cuisine options from Polish pierogi to Japanese sushi and British fish 'n chips to Russian stroganoff and with the sunny summers you will always find the right place for you once you have got used to non-commercial style of venues as every place has a story to tell. The most pleasing aspect of Krakow's vibe, drinking culture and venue themes is that they are diverse and individual, no big commercial pub chains although you will see the big company beer names such as Tyskie and Zywiec the pubs themselves are all a unique and satisfying experience. Something to truly appreciate and enjoy whilst on your Krakow Stag Do.