Kazimierz is Krakow's 2nd biggest party disctrict, it has its own charm and the area highlights the Jewish way of life with its synagogues, museums, restaurants and historical monuments. Like the Old Town an evening spent there in the streets, squares and alley ways visiting the area's best and most unusual public houses or pubs for short will be an enjoyable experience to say the least. Kazimierz has concentrated areas of popularity, the streets of Szeroka, Miodowa and the main square Plac Nowy with all its roads leading off it are host to a great many fine drinking venues and not only. Kazimierz was in fact the name of a Polish king who declared this area a new town separate from Krakow but under his protection for Jewish inhabitants nearly 700 years ago since then the spread of Krakow's development it became a district within the city and the Jewish culture and history is still very prominent. During the Nazi occupation Kazimierz became a prison ghetto for all those the Nazis despised and eventually transported to concentration camps of which Auschwitz/Birkenau being the most notorious, also, Schindler's factory is in this area too in a zone called Podgorze.
Back to the pub crawl now and a great starting point would be Plac Nowy- on this square there are several venues happy to accommodate groups and Alchemia Pub is one of them. This spacious drinking house has 2 floors with live music and DJ downstairs with the ground floor offering food and comfy table sitting areas, as the name suggest it displays old photographs and curious mystical objects in the suffused candle-lit bars. The place has become a legend amongst the locals, though it also attracts many tourists. By day it is a place to sit and enjoy a beer or two as well as food and then at night the basement room serves as a music venue where you can see some of the hottest local & international talent perform. So whether you want to just stop by for a quick beer or spend the evening there enjoying some live music in the basement on a weekend this is a great venue to visit during your stay in Krakow.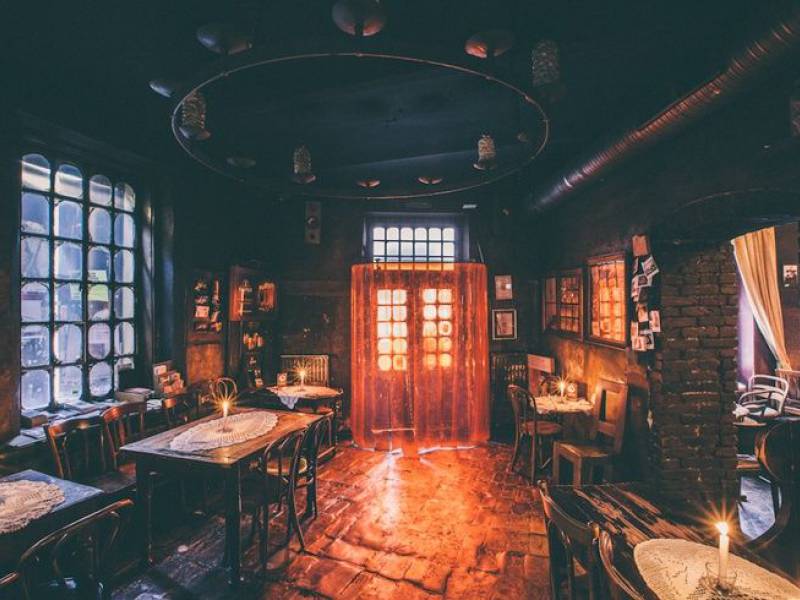 Close by is Pijalnia Wodki Piwa basically, Pub Vodka & Beer when translated. Cheap vodka shots with fancy names and beer on offer in this retro style locale. Fancy a vodka shot for 4 PLN only and a plate of pierogi for 8 PLN ?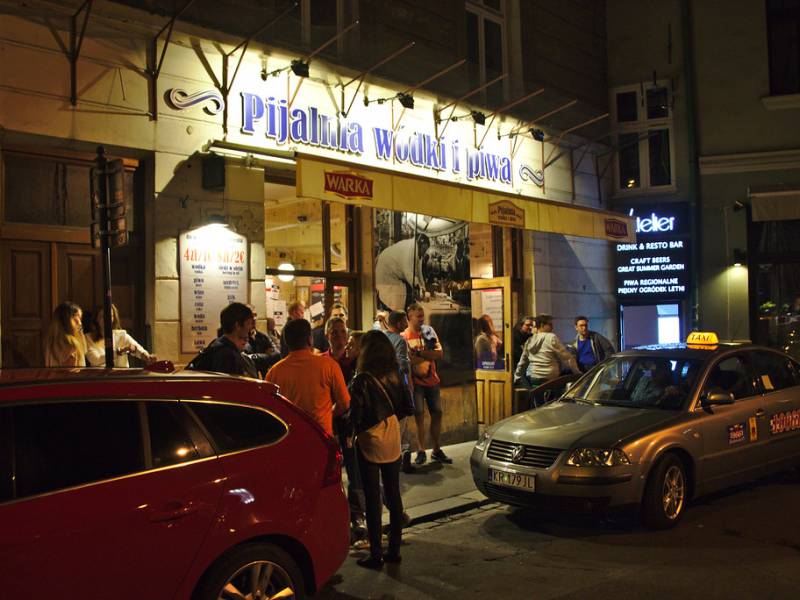 Right next to Pijalnia there is Garden Le Scandale - a modern minimalist styled bar dedicated to themes of Caribbean tastes, Cuban rum &cocktails. Many different chill out areas in this sleek and spacious cocktail venue which also has a fantastic menu choice.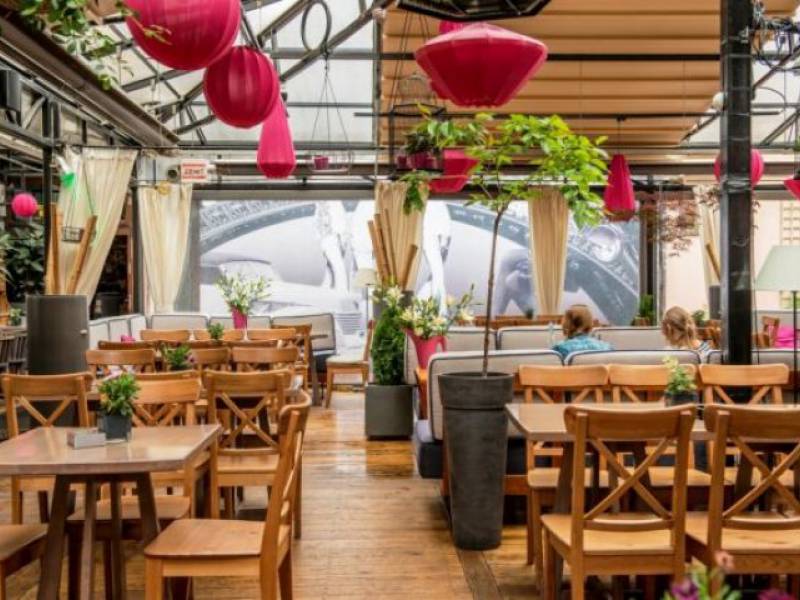 On the other hand if you enjoy a little bit of sport or competition with your mates then Kazimierz only surprises you with darts, snooker and ten pin bowling. The pub darts place also big screens to watch all major sporting events and a dedicated arrows room in Beer Street Pub just off the square. Right on cue is the Billard Club Pik for a few frames whilst also potting and sinking the locally crafted beers and ales on sale on one of their five tables.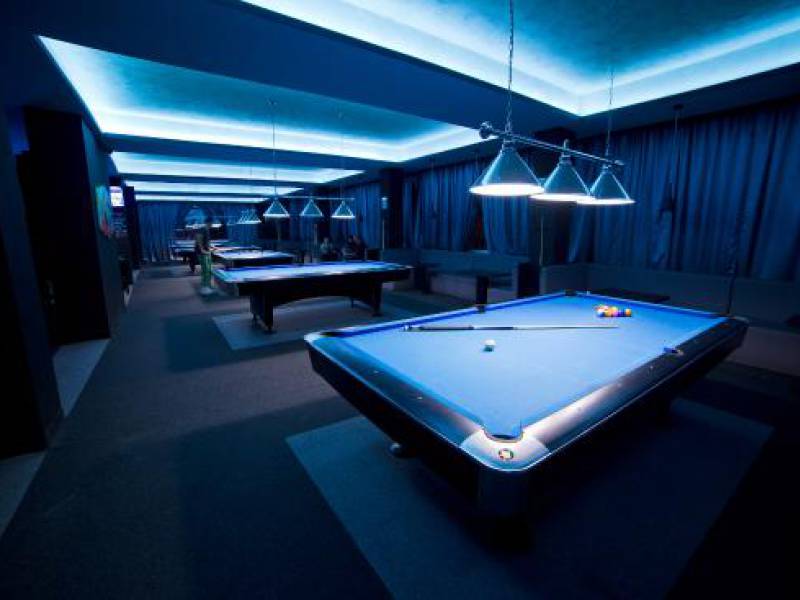 The bowling alley is on the square itself and it would be advisable to pre-book at Plac Nowy 1 as it is a very popular pastime of rolling one's balls down a lane hoping to get a strike with no spares and beer, tea & coffee to keep you going. Plac Nowy 1 is also a trendy cocktail abr and restaurant with luxurious modern design.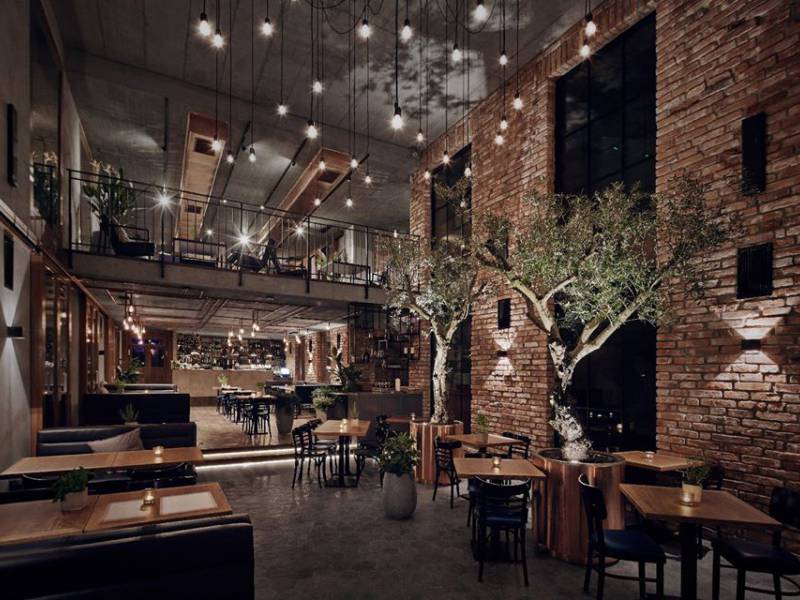 For that old communist feel and Polish punk and ska music try Propoganda on Miodowa street is a great place to visit durong your Krakow pub crawl. A small but atmospheric non-conformist and proleteriat themed place to grab a crazy anarchy beer comrades.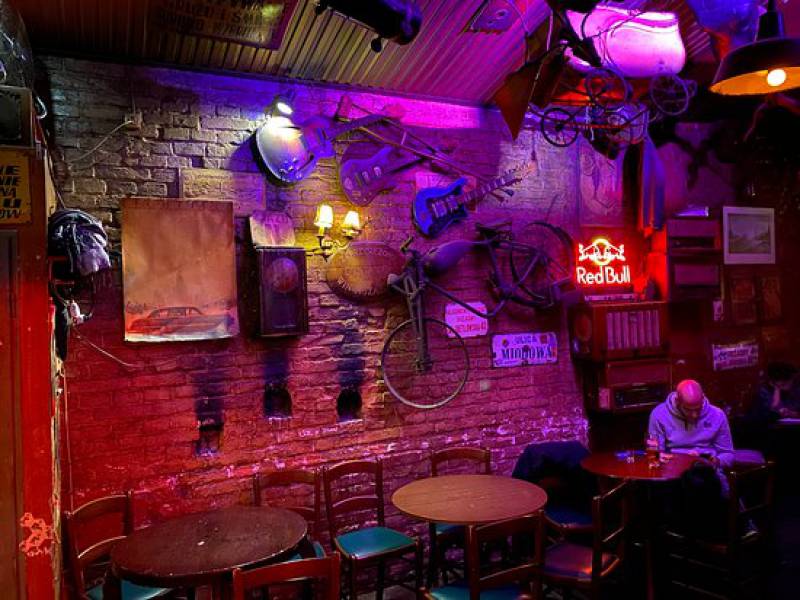 Eszeweria - perhaps embodying the spirit of Kazimierz more than any bar not directly on Plac Nowy, Eszeweria with its gravel stone cozy beer garden, sofas & divans in all the nooks and cranies indoors gives this pub on Jozefa St. a very charming olde worlde vibe. These days it's more of a sleepy hang-out for hip nostalgics with hand-rolled cigarettes dangling off their lips. Perfect for ducking the tourists, having a quiet drink and catching the vibe of the neighbourhood.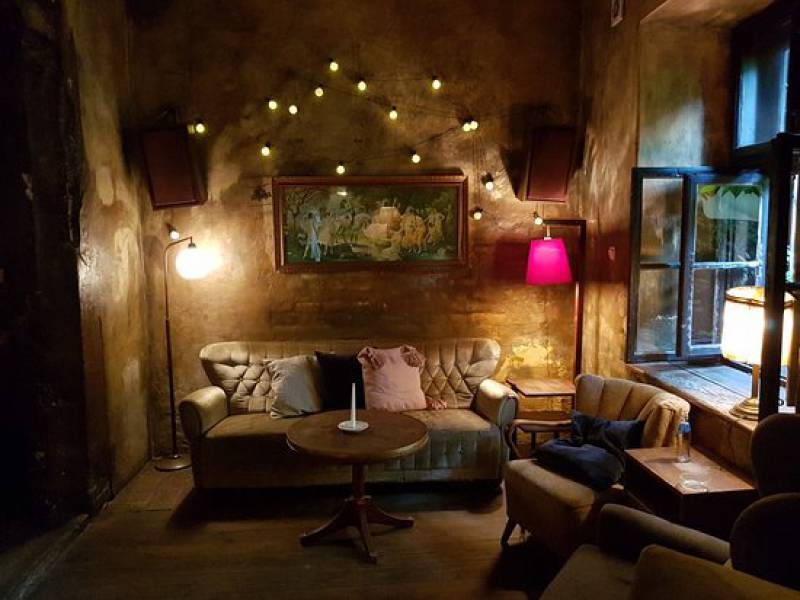 La Habana is a Cuban bar in downtown Kazimierz with plenty of samba going on, they even have original Cuban cigars should you fancy one and of course the famous Cuba Libres cocktail non-stop.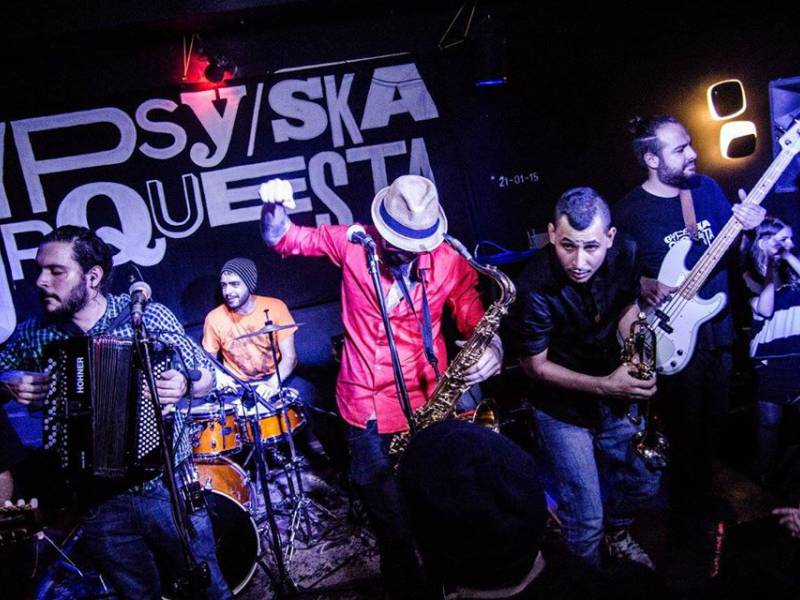 One of the most popular beer gardens in Kazimierz is Mleczarnia with the indoor part on the other side of the road, a fantastic place to chill out for a while before continuing on the crawl.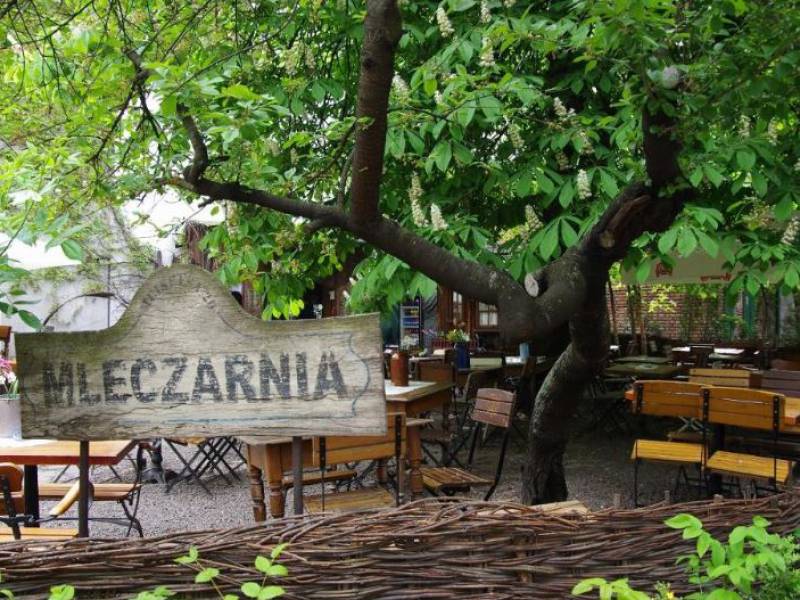 Sababa– also situated in the historic Jewish quarter in Szeroka street, invokes a Middle Eastern atmosphere and unusually on the 1st floor of a town house but nonetheless it specialises in fancy cocktails using exotic ingredients and alcohols enhancing this Middle Eastern theme.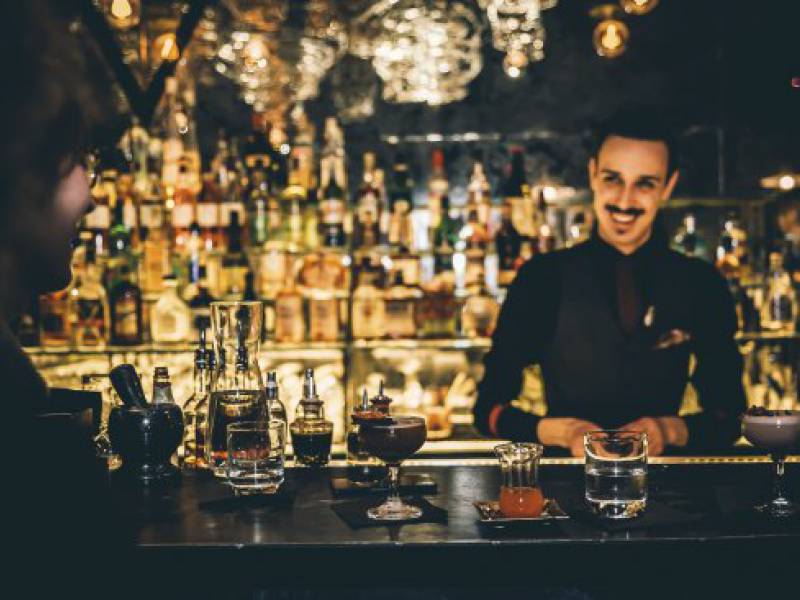 If you feel like listening or dancing to some music then the smooth operator style dive dance bar The Opium Club (Jakuba 19 street) is for you as it is a perfect place for the last surge of the night. There is a chill out fresco bar should you require a breather and maybe try one of their flaming vodka shots too.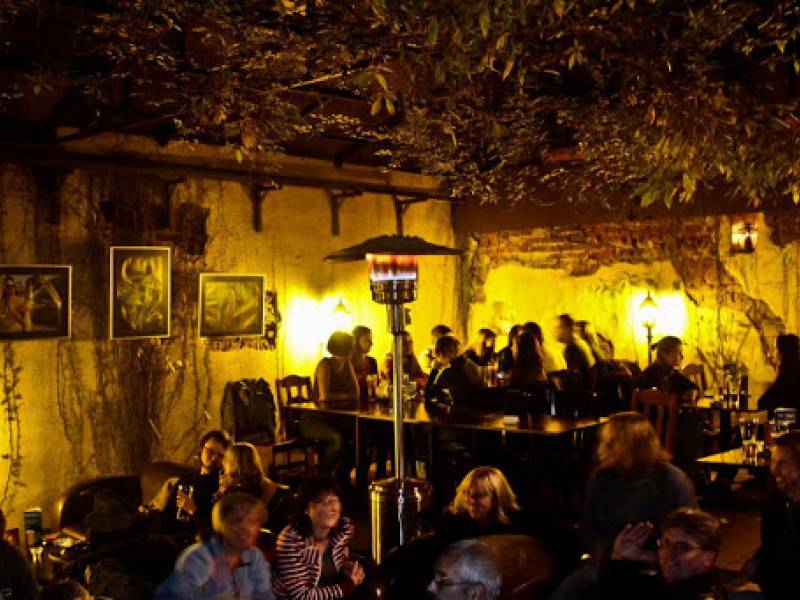 At some point you might feel peckish and Kazimierz has a great reputation for quality street food from burgers to local delicacies such as the Zapiekanka a sort of large cheese on toast with extra toppings and so tasty too. On weekends in Judah Square the food trucks arrive with all kinds of international cuisine on offer even fish 'n chips and the batter is made with beer, also Belgian pomme frites, kebabs and Polish delicacies such as the Maczanka sandwich with pulled pork and the famous Blue Nyska Van grilled sausage. The world is always a better place when you have had something good to eat and in Kazimierz you will get it.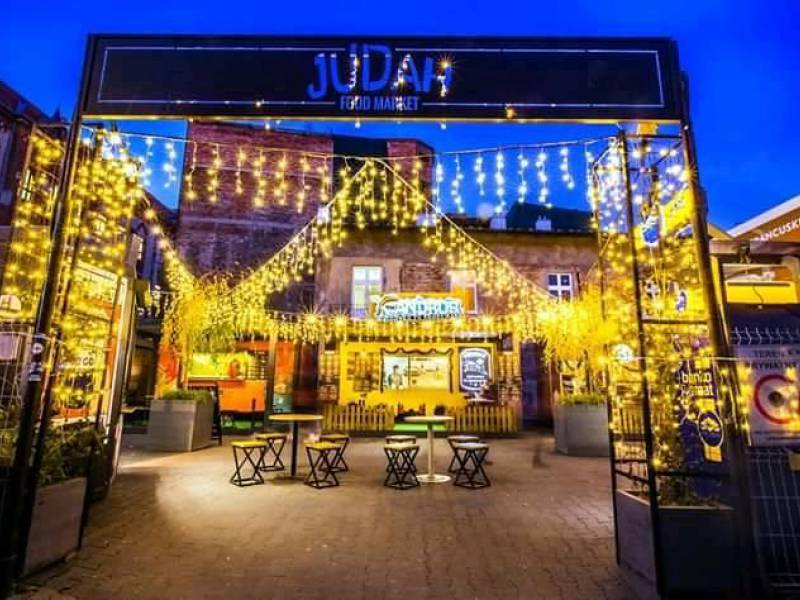 If you start the pub crawl around 4pm you might be able to visit all of these places by breakfast time the next day as there are no closing times for bars, pubs and clubs, so you can pace yourselves better throughout the night knowing you will never hear those immortal words, last orders followed by a ding or a dong or both and neither do the food trucks. Good Luck !