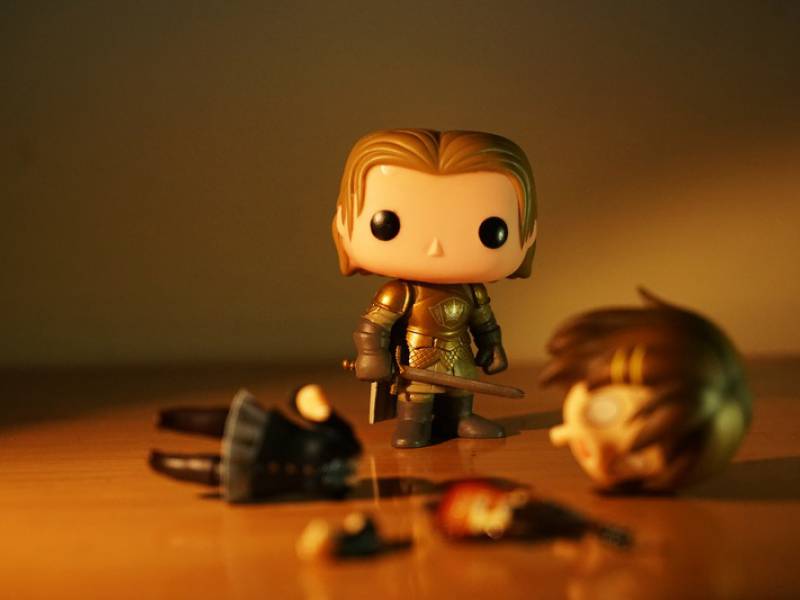 The great popularity of the worldwide hit series Game of Thrones always creates spin-offs from merchandising to full-blown specialised activities such as visiting the film locations with official guided tour operators. The Dan Brown books and subsequent films made Rome extremely popular and you can still go on a Da Vinci Code & Angels & Demons Tour on a double decker bus. Krakow is no different, the Steven Spielberg film, Schindler's List certainly increased the city's profile as the original Schindler's factory was renovated and opened to the public to coincide with visits to the Auschwitz/Birkenau Memorial a UNESCO listed museum.
While no filming of GoT was done in Krakow it does, however, have a folklore dragon legend the infamous Wawel Dragon that hunted and ate the terrified the people of Krakow. These fiery and intimidating creatures often associated with magical powers featured enormously in GoT episodes. In the first season we see Daenerys nurturing three dragon eggs, green, black and gold in colour. They were a wedding gift to her and Khal Drogo her husband whom she murdered. The ensuing funeral pyre saw her enter the burning flames and the next day unexpectedly arose with three newly hatched dragons infants which she named Rhaegal, Viserion and Drogon.
As we know in season 8 only one dragon will remain, although Viserion after being struck down by an ice spear is resurrected as an undead but finally perished when his new master the Night king was killed and Rhaegal was slain when attacked by Euron's Iron Fleet army with scorpion bolts. Drogon is now the sole dragon but when he finds his assassinated mother, he screams his rage and grief aloud and for revenge reduces the Iron Throne to a molten mess. The coveted Iron Throne was originally created by a dragon centuries before, Balerion the Black Dread whose skull was seen in season 7 in the vaults on the Island of Dragonstone.
Dragons and GoT in Krakow? Yes, as fancy dress is a traditional practice on a Stag Do, if yours is a GoT Party then you can celebrate with Krakow's gigantic Iron Dragon breathing smoke on anyone who unwittingly gets too close. This magnificent tribute to the Wawel Dragon legend is in the vaults of the dragon themed pub Mr. Vavelsky which is a listed building of cultural interest and the unofficial legend says it was the home of the legendary hero Skuba Dratewka who slew the Wawel Dragon with and exploding sheep which, incidentally, is one of their specialities on the vodka shot menu. So, if you are looking for a GoT themed Stag Weekend then Krakow comes highly recommended.
Party Krakow a dedicated Stag & Hen Company based in Krakow can assist you with your GoT Party Stag Weekend. Apart from the cellar bar dragon entertainment such as the Mr. Vavelski Dragon Smoke Karaoke and dragon shots their Beer & Food Garden courtyard will be enough to fulfil and fuel your dragon slaying thirst and hunger for an epic GoT banquet.
Apparently, if you take accommodation with them then a GoT style exotic dancer can be summoned to your quarters to add to the merriment. Also, in line with the GoT theme the activities of Axe Throwing & Archery can be reserved. There you are two teams all dressed in GoT costumes maybe to decide the Battle of the Bastards once again by hurling razor-sharp axes and hatchets at the bullseye of a solid wood target a few metres away. This battle sport really brings out the GoT Hero in you, once you have mastered your technique no enemy or dragon stands a chance as your adrenalin rush makes you roar louder than Drogon himself as your fiercely flung axe makes that low guttural thud sound on impact! Exhilarating. To maintain the onslaught of warring GoT heroes & villains your similarly dressed Guide escorts you in full robes of action through the Old Town to the Archery Tag contest arena.
This fun outdoor activity requires a steady hand and an incredible amount of agility to recoup the fallen arrows which are safety tipped and only strike you instead of piercing you and above all teamwork and strategy is the key to winning this open field battle among the inflated defence barriers. Like Arya Stark you can whisper your intended target's name as you take aim then let fly your death arrow (with safety tip) but try not be her uncle, Edmure who too many times failed to strike his Father's funeral boat pyre with his flaming arrow shots, as your mate steps up and says that you should leave it to him and you should just collect the arrows for now. The Tag Archery is a hot favourite for GoT activity weekends.
On the walk through the Old town you may want to pass by the Wawel Dragon Cave which is situated at the foot of Wawel Castle Hill close to the banks of the Vistula River. It is possible to enter and explore the cave and get some great GoT photographs with the Stag. Outside the dragon's lair is the Wawel Dragon statue which actually breathes fire every 5 minutes or so or you can text the local council for a personal dragon flame with the group. This monument of the Wawel Dragon emphasizes the importance and meaning of the folklore tale in Krakow's history and every year there is the Great Dragon Parade Weekend to celebrate it. Professional Groteska Theatre actors stage performances depicting the story and many schools build their own dragons and march around Planty, the pedestrian walkway circling the city centre to finish on the main square Rynek where prizes are awarded for the adjudged best dragon representations.
Obviously, a visit to Wawel Castle is in order, to line the ramparts and castle walls dressed up in GoT costumery will make for splendid snapshots in this medieval surrounding. Hanging above Wawel Cathedral's entrance within the castle grounds is a relic of the Wawel Dragon, a large bone supposedly belonging to the fabled dragon defeated by Skuba Dratewski an apprentice shoe-maker whose craftiness killed the dragon by filling a dead sheep with sulphur that made the Wawel Dragon on eating it run to the river to drink and causing it to explode.
This brings me back to Mr. Vavelski Dragon Pub and their Exploding Sheep Vodka cocktail and the fantastic Polish Vodka Tasting Magic Show. Enjoy a few vodkas and feast on platters of food snacks with an in theme magician or should I say sorcerer, forsooth M'Lord?
After a day of hi-energy and full on activities you have worked up an appetite and could eat a dragon with his rider, so, a GoT banquet feast is a must. The best option is the Brewery Feast. Set in a castle hall like environment which has its own brewery, you are served freshly made beer in 5 litre glass giraffes and a massive marinated ham hock with soup served as an appetiser in real bread bowls in true medieval style.
You need not be a Stag Party, if you are GoT fans and wish to create a GoT themed weekend experience especially in Krakow then give Party Krakow a call to set up and organise a fun packed few days in the medieval city surroundings, you will not be disappointed.
Live the Game of Thrones fantasy world in buzzing Krakow.