Main Market aka Rynek Glowny in Polish– this huge bustling square offers a plethora of venues to suit almost every preference in drinking styles - below we have listed just a couple of the long list. But worry not - we will be adding more, and if you follow our social media channels you will not miss it !
So, you have checked in to your central stag do accommodation and freshened up for the evening and you want to celebrate the first (stag) night in a special, but not in a typical touristy way- more in the vein of a local. Just off the Main Market square there are some intimate and cosy bars to have some pre-dinner drinks in the Old Town. If you're staying in Draggo House all you have to do is literally walk down the stairs, and there is a fantastic ruined bar themed cocktail and BBQ garden, as well as the karaoke bar- Mr Vavelsky - waiting for you.
Mr. Vavelsky – cellar karaoke bar & open air cocktail bar (Golebia 6 street)
Mr. Vavelsky during summer months offers a beautiful open air cocktail & BBQ garden, which hosts mamy interesting events weekly including live comedy shows in English, sports events transimissions, atmospheric accustic concerts but also live DJ parties - you name it and they've got it ! A wide range of cocktails on offer plus the pub is dedicated to the great Wawel Dragon Legend. The garden is idyllic, serene and comfortable - just the place to cosy up and spot a drink or two before continuing your shoulder to shoulder stroll through the medieval streets of the Old Town to a restaurant,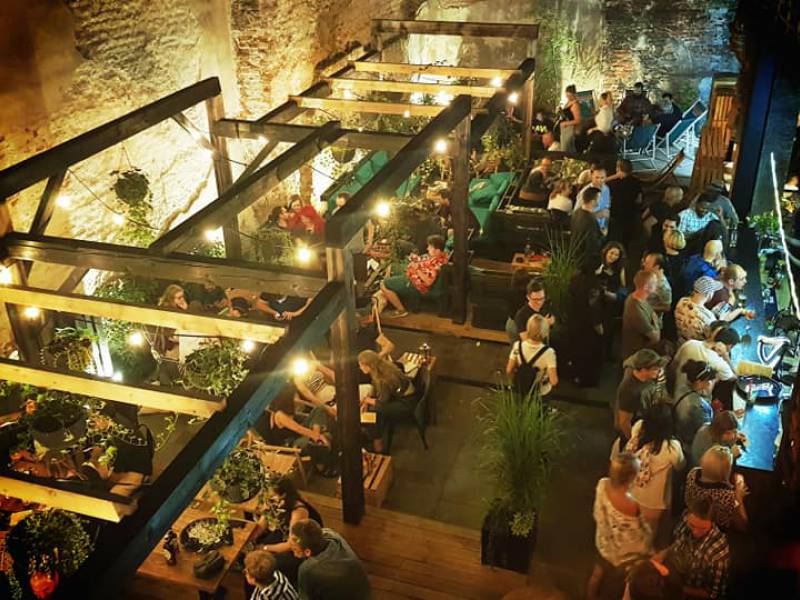 The downstairs holds the notorious Krakow Dragon which is the theme there with a massive smoking dragon sculpture attached to the ceiling. The dragon is both beautiful and well designed as it is a bit off the beaten path. The cellar bar is especially famous for the karaoke, but it also hosts live music, DJ parties & Drin.King parties. Vavelsky comes highly recommended as a place to visit during your Krakow Main Market area pub crawl.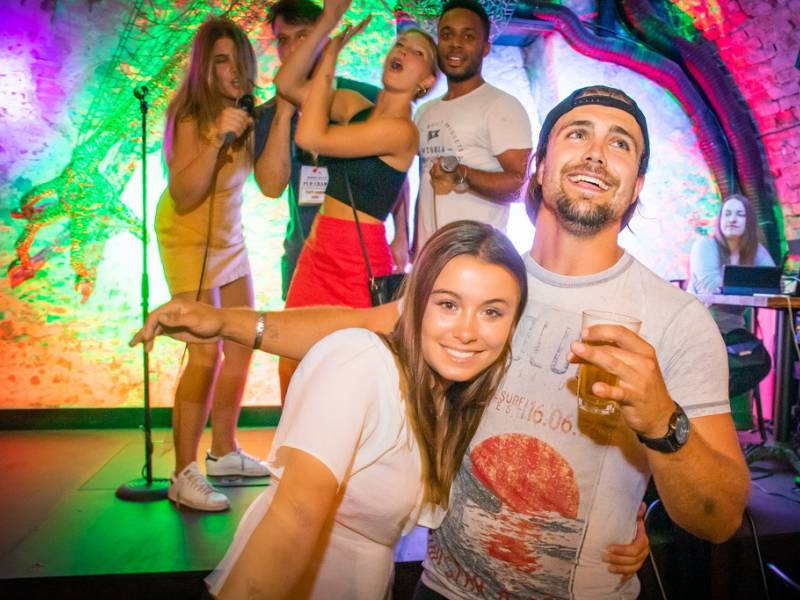 If you are a craft beer lover then Space Craft brew pub (Bracka 3 street- just 75m from MR Vavelsky) should be definitely on your stag night map ! This pub specialises in craft beers and ciders, splendid range of tipples to choose from plus excellent pub grub on offer from Tacos to Fish 'n Chips. Dave, the owner is a Cambridge Theoretical Physics graduate, who chose to explore the science of brewing to quantum science and opened his craft brewery (Twigg) specialising in traditional English and Belgian ale styles. The brewery was established in 2014 in the Nowa Huta district of Kraków by avid homebrewer, CAMRA member and Cambridge Theoretical Physics graduate. If you're a beer connoisseur and prefer savouring the golden tipple to just chunking a lager, this place should be on your Krakow pub crawl list.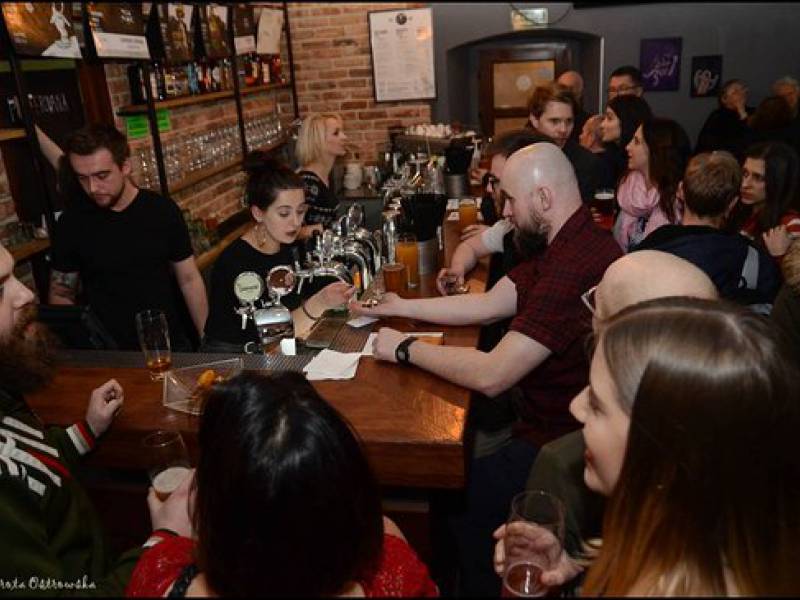 The night is still young and after a sumptuous meal you take to the night air and meander through the cobbled streets of the Old Town admiring the city in a shared feeling of bliss while bathed in moonlight from the starry skies above. A nightcap? A leisurely alcoholic digestive after the restaurant or do you cap the night with something a little more lively, the Old Town is teeming with venues of all descriptions from a cosy cognac to nightclub dancing in Krakow's eternal buzzing nightlife. As for the leisurely nightcap a great place almost on the main square would be Mercy Brown - a speakeasy cocktail bar hidden away on Straszewskiego St. Its theme reflects the American prohibition times and is mostly aimed at locals (since they don't advertise their exact location). That said if you're accompanied by PartyKRakow Rep, you can get in and enjoy great drinks and atmosphere. Also one of the very few places to see Burlesque !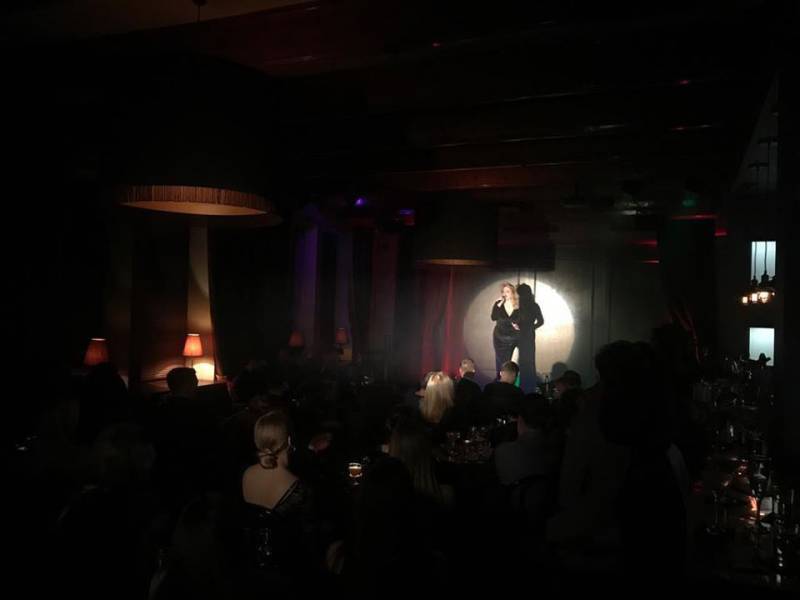 Fancy coctails not really your thing ? Luckily there is Banialuka (Szczepanski 6 Square)– renowned for its cheap prices, almost everything is 4 -8zl including vodka shots, beer & prosecco in the hot season. They have made Soviet vodka drinking snacks a trendy & unusual thing to do in Krakow. It's like a Pound Shop but serving alcohol & snacks.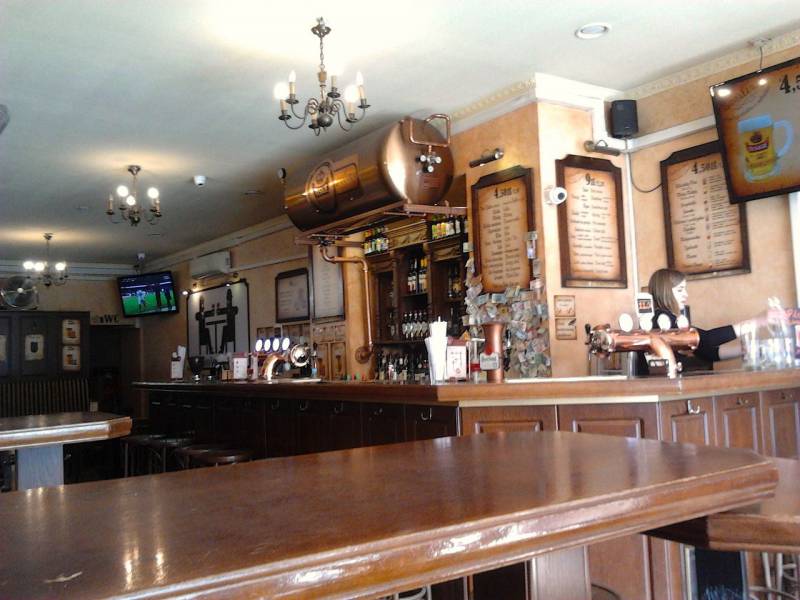 Wanna change the mood and feel in need of live music ? On the opposite side of the Market Square in Mikolajska street there is the Awaria Live Music pub - great live music sessions and a happy crowd of people (mostly expats and Poles).
Stepping up the entertainment level - you are probably around midnight by now, so it's a good time to hit a nightclub. A 5min stroll from Awaria there is the fantastic Coco Club in Szpitalna 38 street.
There is selection at the entry, so dress reasonably smart and stay reasonably sober. Entry fee is applied usually on the weekends, unless you are accompanied by PartyKrakow Rep.
Oh, we almost forgot - if you wanna grab something Polish to eat then here are our recommendations:
Miod Malina or translated Raspberry Honey in Ul. Grodzka, offering Polish and Italian cuisine, fine wines and excellent service in stylish décor and furnishings.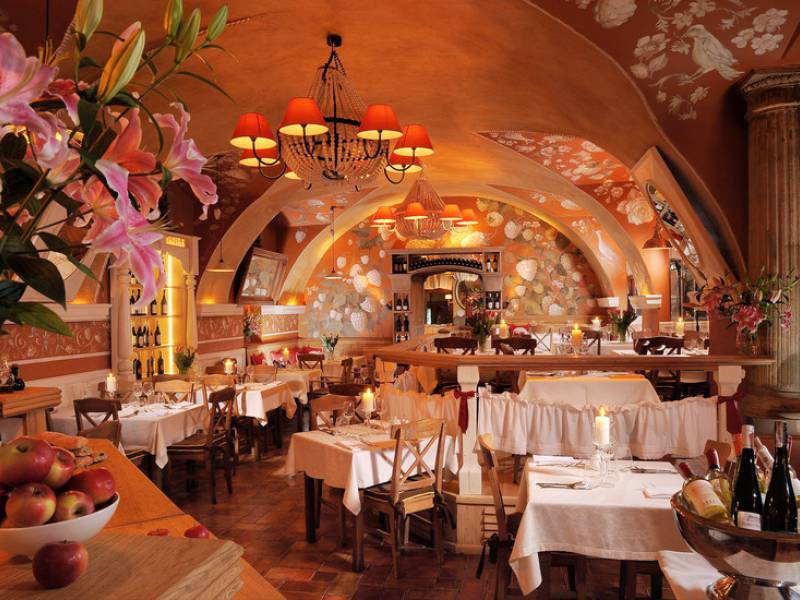 If your preferred style is more "casareccia" or home-made cooking in traditional rustic surroundings of the Polish karczmas then you must spend some time together at Babcia Malina (Szpitalna 38 street - close to Coco nightclub) with some very wholesome dishes that are as dear to Poles as the good old British Sunday Roast. Babcia means Grandma and as mentioned earlier malina is raspberry in English. The food is so good even celebrities go there and their autographed photographs are displayed on the walls. Once again, the restaurant is hidden and not easy to find but if you ask any Krakovian they will give you directions as every local knows Babcia Malina!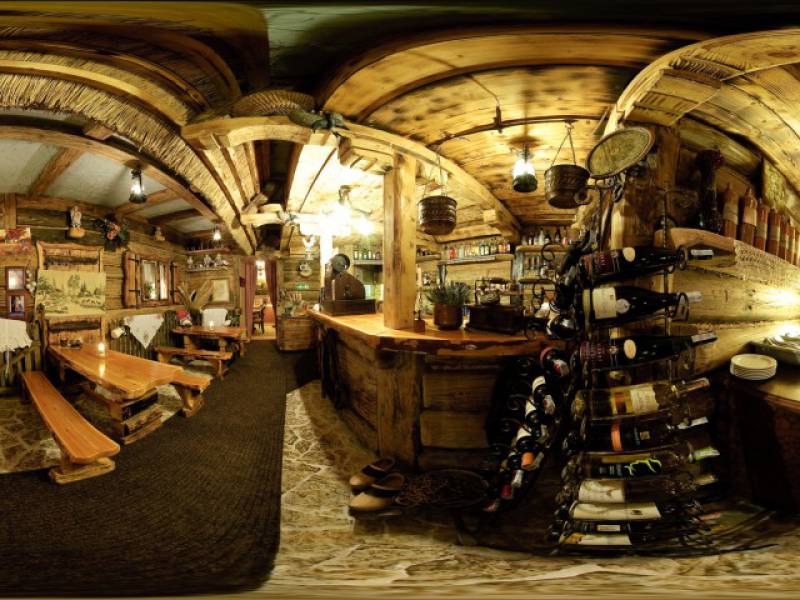 The above is only a selection of bars & pubs and restaurants we might take you to on your stag weekend in Krakow - there really is a lot more to experience from relaxed to singalongs !