Beer is one of the oldest known brewed beverages in humanity. Evidence of brewed beer appeared in China 7,000 years B.C. and furthermore in Iran and Europe 5,000 years B.C., its existence from so long ago determined why this popular past time drink is part of our natural social life today. In Europe beer was mainly produced in monasteries, though, this was a service to ensure a safe and dependable way of drinking water albeit flavoured and beer was the preferred beverage at the dining table along with wine. Beer brewing was largely a domestic affair until the medieval era when it became more business like with a wider distribution and higher production. When the 18th century Industrial Revolution began beer production became a mass produced product and exported all over the world. Many long history trademark brands still exist today and Poland is no exception with the Warka Brewery being the official beer supplier to the court Prince Boleslaw of Warsaw in 1478, Warka beer today is one of Poland's top producers and sponsors the national football team. In 1999 Warka became part of another stalwart beer producer Żywiec which was formed in 1856 by the Habsberg Imperial family in the city of Żywiec, Southern Poland under Austrian control at that time. Żywiec beer company has a chequered history with world wars, the Nazi occupation and Soviet Block under Stalin post WWII but amazingly Żywiec and most of Poland's breweries survived and continued to produce and sell beer. When the Perestroika, initiated by Gorbachov, saw all U.S.S.R. controlled countries gain their independence by 1989, this led to international companies investing in the Polish breweries and Żywiec was absorbed by the Dutch Heineken Group and the Danish Carlsberg Group investing other popular brands in Poland such as Okocim, Kasztelan and Harnas while the massive Japanese drinks company Asahi Group Holding acquired the Tychy Brewery in 2017 producing one of the top selling Polish brands Tyskie and Lech. Today, 80% of Poland's mainstream beer production is majority owned by these 3 groups, Heineken, Carlsberg and Asahi breweries. Poland ranks third in beer production & sales after Germany and UK in Europe.
Poland's mainstream independent producers are Perła and the Van Pur Group. Perła is based in Lublin and has been a beer maker since 1844, ironically, the brewery started in the ruins of a monastery making a connection with the medieval beer boom era. Van Pur Group is ranked 4th in Poland for beer production and their market surprisingly caters for large international supermarkets. Morrisons's premium lager and Tesco's own brand lager are two of their wholesale clients.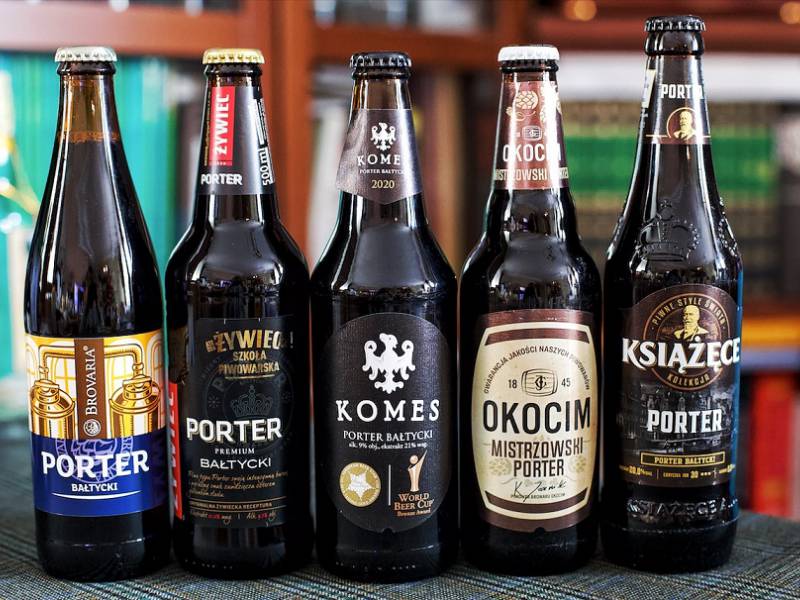 One particular type of beer found in Poland is Porter, the look and taste is similar to stout in colour as brown malt is an ingredient and highly recommended if you are a Guinness fan as before the company name became well known it was called Porter. The recipe for Porter brewing was brought from London, UK in the mid-1800s and has remained a specialised beer ever since especially with the Baltic coast breweries and the name Porter derived from the porters that worked on the docks and trains that drank copious amounts of it. The award winning and highly respected Grodziskie beer has been described as Polish champagne as it is quite fizzy but nonetheless much appreciated by drinkers on an international level. The beer is made with dried wheat malt and oakwood smoke passed through it in the process. The original recipe for Grodziskie beer dates back to the 14th century and it is served in its special conical shaped beer glass resembling a champagne flute, hence, the nickname Polish Champagne, a real high quality beer with a long and prestigious history. Wheat beer or Pszeniczne in Polish is extremely popular in Poland and all major beer companies produce it as well as smaller independent breweries that are breaking into the mainstream market.
In the last 15 years the trend of seeing local microbrewery craft beers beside the mainstream beers in pubs, clubs and restaurants has increased enormously. More artisan and specialised beer options for the beer enthusiast to try from regional family breweries or indeed newcomers reviving niche beer production has also witnessed the opening of pubs with their own brewery on the premises aptly named brewpubs. Krakow has a wide choice brewpubs and venues offering artisan locally produced beer with exciting original and experimental choices such as Black IPA, Dark Lager, Cherry and Watermelon Amber Ales.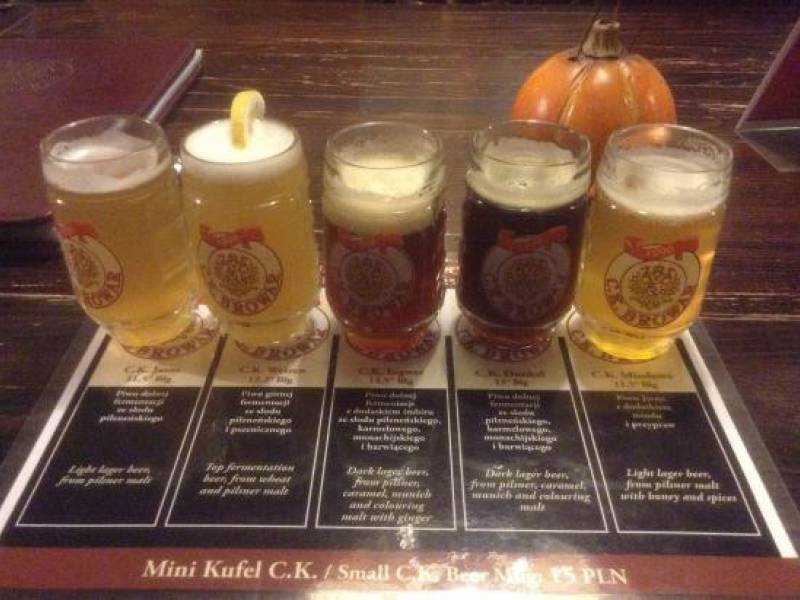 A guided pub crawl in Krakow is certainly the best way to sink a cool pint or few and experience the high quality standards of Polish beer and craft beer with affordable prices, a pint can be as low as £1.20 to buy if you avoid the touristy areas. A nifty Polish custom is to drink your pint with a shot of vodka in it, it is called The Submarine as the shot glass full of the chosen vodka is immersed in the pint glass and as you drink the vodka slowly mingles with your beer whilst imbibing it. Krakow has two beer festivals annually, Krakowski Festiwal Piwa at the end of May and also the great beer brewing city of Żywiec close to Krakow holds the Birofilia Festival in the actual Żywiec Brewery the 3rd week in June. All of these events encourage fellow brewers and the general public to come and taste some original craft beers along with food and entertainment provided to make it a great day out. A great chance to sample some of Polish beers is during a guided bar crawl, or when attending the Brewery Feast dinner.
A Pole consumes according to surveys an average of 92 litres a year which does not seem a lot, only 7.5L. a month when you know that after a rugby match players and rugby fans drink more than that in one night. They should have narrowed the field a bit to get a more credible conclusion. The high number of quality brewed beers whether mainstream or local breweries in Poland would mean that you could drink a different beer every day for 3 whole years before you get to drink the first one again, good luck with that challenge.