Although there are plenty of destinations to consider for your next international sports tours, Krakow boasts a thriving local community of various sporting activities and state of the art facilities to do them whether you are a group of friends, works social outing, school sports trips or a team tour, Krakow can provide a complete package of entertainment and services from amateur to professional requirements. Play sport with the locals is a very real option if you choose Krakow as your destination plus the chance to enjoy the city's day and nightlife attractions to make your experience a memorable one.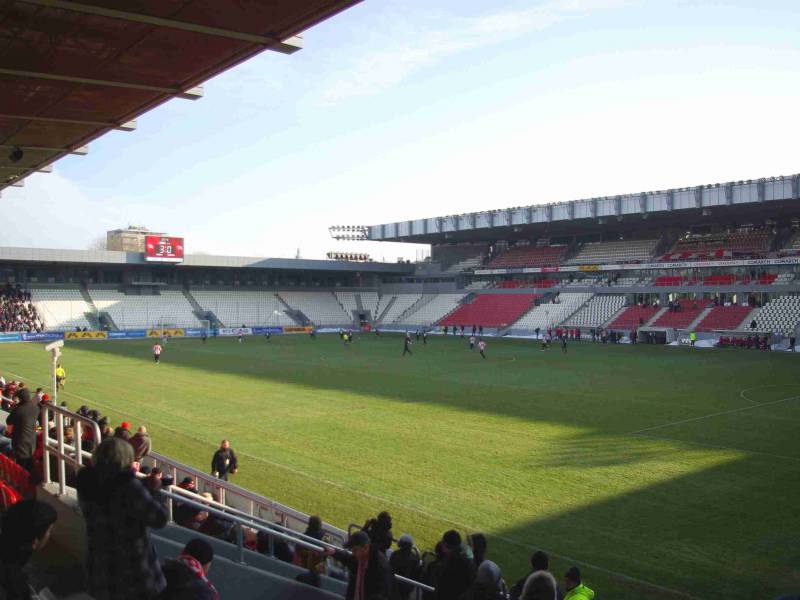 Krakow has two top flight Ekstraklasa league teams, KS Cracovia and Wisła Kraków which creates a fantastic and passionate local derby . If you want to see a local football match with either team or if you are lucky enough to be in Krakow on Derby Day then make plans to visit the home ground as the stadiums are quite close together, one on either side of a large public open space grass area called Błonia Park. However, I advise you to use a specialised booking company as probably you will be a 1st time spectator, so, to avoid disappointment or delay getting into the match a company like Party Krakow which pre-register your group for the compulsory Spectator Card along with return transfers, Wisla or Cracovia match tickets and a Guide to assist, alcohol is on sale in the stadiums and seating would be in the Family Zone. This is an ideal way to ensure a great day out watching pro-football with services all included in a Football Match Day Pack Special.
Also, all major league, UEFA and international matches are shown live in the pubs, so, if you need to follow your team while here in Krakow there are plenty of opportunities to grab a pint or two and watch your chosen match in comfort (check Mr Vavelsky karaoke and sports bar).
If spectating is not your cup of tea and you prefer to match your skills against a local football team there are several indoor and outdoor sports facilities with grass or artificial surfaces for you to choose from which cater for 5 a side football, 7 or 11-a-side games and with a full 11 player team having a referee to officiate the game. It would be necessary to state your level ability in order to make a game of it. Playing 5-a-side though you may have enough players in your own group to field two teams, if not, opponents will be supplied who will join you for the post-match BBQ & Beer Party.
Last year a company from Norway held its annual works 5-a-side tournament in Krakow, a 300 strong travelling group of company employees battled it out for the winners title. When interviewed they said that Krakow had been the best organised tournament in their history with transfers, food and drink, and equipment for the 9 till 6pm daytime competition in the open air sports club close to the Vistula River.
Krakow has 5-a-side leagues and a Sunday League plus local teams from varying levels and ability, so whatever you are looking for can easily be arranged. We can also provide fully equipped training camps for professional clubs to suit juniors through to seniors with a comprehensive package including accommodation, meals and transfers. On a lighter note, for a group of friends to spend a couple of hours playing Bubble Footie, this activity is hilarious and great alternative fun, c'mon, give it a go.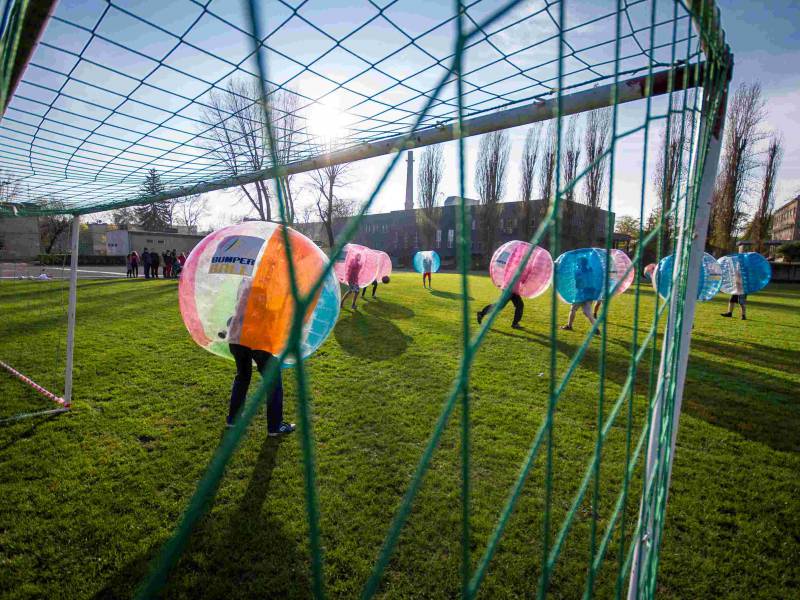 Poland is not known for its rugby teams but I can tell you that this sport is gaining popularity and fast. Krakow's own pro-team Juvenia Krakow RFC has a strong youth sector with the senior team riding high in the Ekstraliga, Poland's top level in this emerging sport. All teams that are thinking of touring should consider Krakow as not only is the city's buzzing atmosphere an attraction but throw in a friendly with the local team Juvenia and the Rugby Friendly Match Pack will give you a tour to remember. There is only one other event to top playing a rugby friendly match here is the Krakow Rugby Festival or KRF which is held in the 3rd week of June every year at Juvenia Krakow's stadium. A fantastic weekend of rugby and everything that rugby identifies with on and off the field . The renowned KRF tournament plays host to international teams and referees who pit and display their skills not only on the pitch as the weekend kicks off with the Friday night Welcoming Party in the city centre with Unlimited Beer 'n Cider from 8 till midnight, live music and DJ Party. The Saturday is dedicated to rugby 10s for the men and 7s for the women and the qualifiers for the finals which take place on the Sunday. All teams have a chance to win their final according to the three category format of Champion, Elite and Kracking plus the numerous special awards such as Best Drinkers and Golden Moment. The KRF organisers provide all services necessary with a choice of 3 packages to suit. They include return airport transfers, accommodation, pitch transfers, BBQ and grilled meals pitch-side, unlimited beer and cider for the whole weekend, skill and drinking games, sport massage tent, team tents and changing room facilities, DJ, MC and live music pitch-side and a paramedic team and ambulance stationed for the weekend should the need arise. If your team can make it for the Sunday finals as the unlimited beer 'n cider takes its toll on some as we have seen in the past we have a splendid day of exhibition rugby with the famous or notorious depending on how you view it The Stretcher race which involves someone being humped about on a stretcher, beer and vodka and the coveted Drop Kick the Bucket event which everybody is out to win. The day at Juvenia's ground finishes with the KRF Awards Ceremony accompanied with a live band then back to your accommodation to freshen up for the 8pm to midnight KRF Grand Gala evening which includes, yes, unlimited beer 'n cider and a sumptuous meal and team anthem sing along in a city centre restaurant. Many teams also do their Tour Initiation Inductions to tour newbies during the Gala Dinner, some of them are quite bizarre in a biblical sense. A few honourable mentions, The Slider Try, any players scoring a try between the post upon the slippery tarpaulin is given a beer to do with it as he or she pleases, our complimentary naked bike rider and all those special moments created during the weekend rugby festival in the true Spirit of Rugby.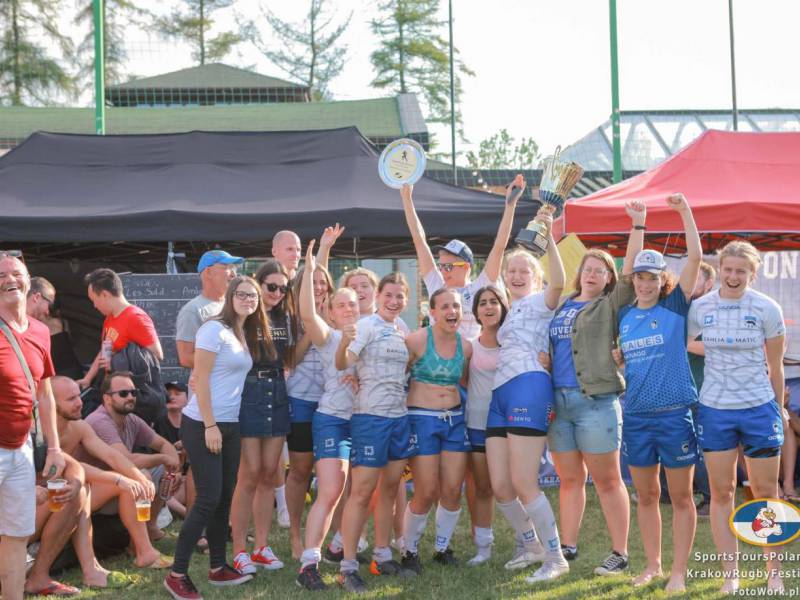 The KRF is open to teams, clubs and groups of rugby friends and we have had teams from all five continents in the world participate through the years and some very worthy winners. The Krakow Rugby Festival is the tour and tournament you have been waiting for and with the unlimited beer 'n cider option do you have the ovals to compete and complete it, three days of partying and two days of playing the KRF put you to the test.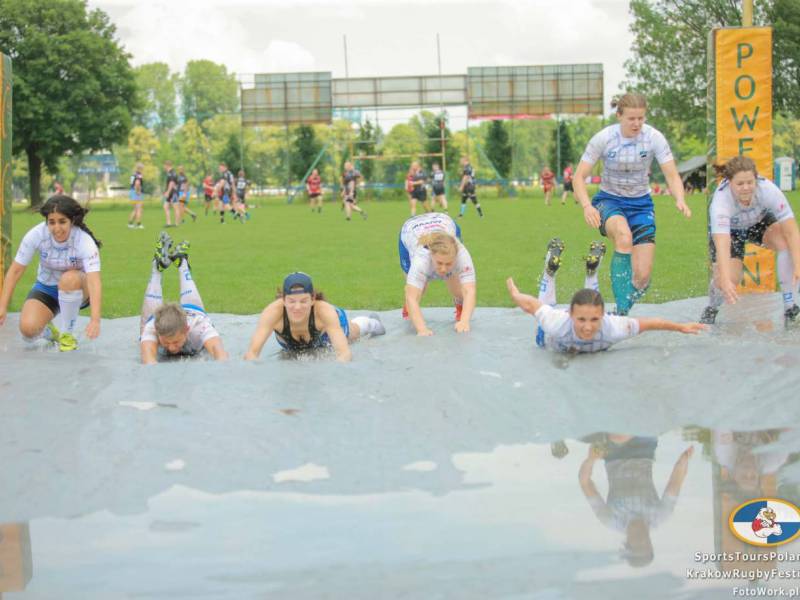 Polish TV station PolSat Sport transmits Ekstaliga Rugby matches live and like the football there are many places in Krakow to catch a game and all Rugby World Cup matches are screened along with the entire 6 Nations Tournament all shown live in the city centre pubs.
Krakow has a cricket team! You might not associate Poland with cricket very much but it's true, the KCC or Krakow Cricket Club is largely made up of non-Polish players but nevertheless we can set up a friendly match with the local team or like the KRF the KCC has a yearly tournament with, once again, international teams descending on Krakow for another full on weekend. Similar to the rugby festival there is a choice of services available to your requirements that will bowl you over or knock you for six to make your stay and play a glorious one.
Krakow has many running events too, every year the city hosts and organises the Krakow Marathon in November and the race starts in Europe's largest square, Rynek. Then the more local but interesting 10k Night Run which as the title suggests begins at night around 9:30pm on the main market square. The final organised local run is dedicated to all physically challenged competitors which runs in conjunction with the Krakow Marathon, all types of wheelchair, hand-bikes and rim push contestants race the full 42k marathon traditional distance a most spectacular event to watch or participate in. These are the main running events as international racers apply to take part, however, there are some smaller more local events on the calendar.
Club pre-season training camps can also be arranged involving various sports such as basketball, volleyball, handball, track and field or fitness clubs in Krakow or in the outlying districts. There is an unusual sport or activity that is available with expert instructors of Pole Dancing classes and Belly Dancing, whether you take on these activities to stay in shape or for fun we will oblige you.
In whatever sporting context you may be in Krakow for what do we have that you can do in your free time? Well, the package deals or activities can be combined with a choice of leisurely events by visiting Krakow's main tourist attractions. Many group organisers can include options such as a visit to Auschwitz/Birkenau Memorial, Wieliczka Salt mine or Krakow's medieval Royal Wawel Castle on a cultural level. All of these options can be inserted into your itinerary in your chosen package deals effortlessly leaving the organiser free to concentrate on the ongoing sporting event. The vast list of extra or added activities on offer will assist any visiting sport group to get to know the best of Krakow in the period you are here. The more light-hearted options would be a Guided Pub Crawl and a chance to savour the locally brewed beers and ales or enjoy the wide choice of international culinary eateries and restaurants. The Street Food choices are really exceptional and above all nutritious and great value for money. The shooting range in Krakow is also popular among visiting groups, also the Paintball and ASG shooting are high on the list.
Krakow's buzzing cosmopolitan atmosphere will pleasantly surprise you apart from the sport event you are attending whether as a spectator or participant, a group of friends, official team tour, amateur or top level and all in between Krakow welcomes you as a local as you will soon discover the moment you arrive.
Safe hands and good feet, always.