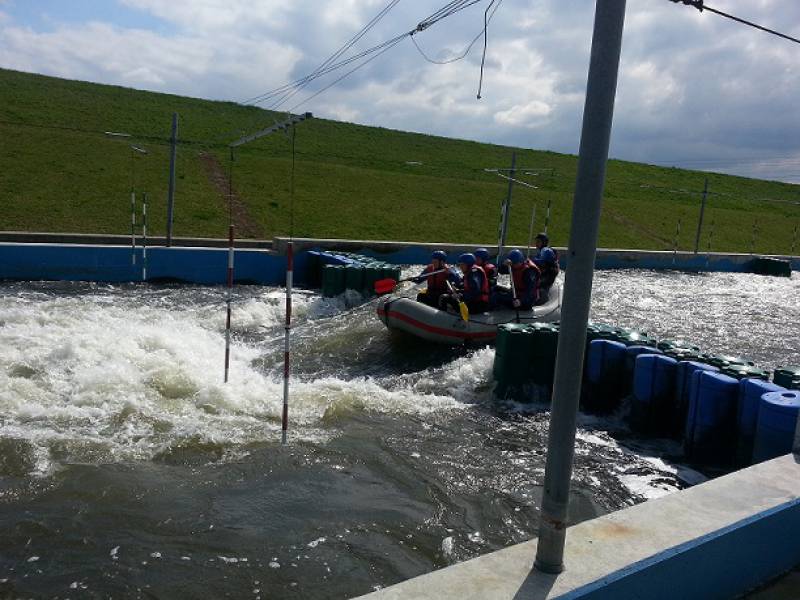 Rafts and rafting is centuries old, in fact, it was the only type of water transport in the very early days to cross rivers and transport goods quickly. As time progressed so a more leisurely and recreational use was adopted and eventually rafting became a competitive sport often referred to as an extreme sport. Party Krakow has White Water Rafting as a prime activity in the most popular choices table, the Olympic standard circuit combines all the excitement of negotiating the fast rapids with the crew on board trying to control the descent which produces some hilarious and surprising moments but above all great fun in the Krakow sunshine.
The most famous raft was the Kon-Tiki which was made of balsa wood and sailed from Callao in Peru to Tahiti by Thor Heyerdahl, a Norwegian explorer. He set sail late April, 1947 with 5 companions and a parrot and arrived to the Polynesian islands just over 3 months later in early August covering 6,900Km across the South Seas. Since 1947 the Kon-Tiki experiment has been repeated 9 times, some unsuccessfully, by various other explorers with the last in 2015 called Kon-Tiki 2, the plan was to sail there and back but unfortunately the crew had to abandon the attempt on the return journey. The first recorded WWR escapade was in 1811, an American attempted to navigate the entire 1,735Km Snake River in the state of Wyoming, needless to say, the nicknamed Mad River rendered the endeavour impossible to complete, however, it was successfully completed 129 years later in 1940.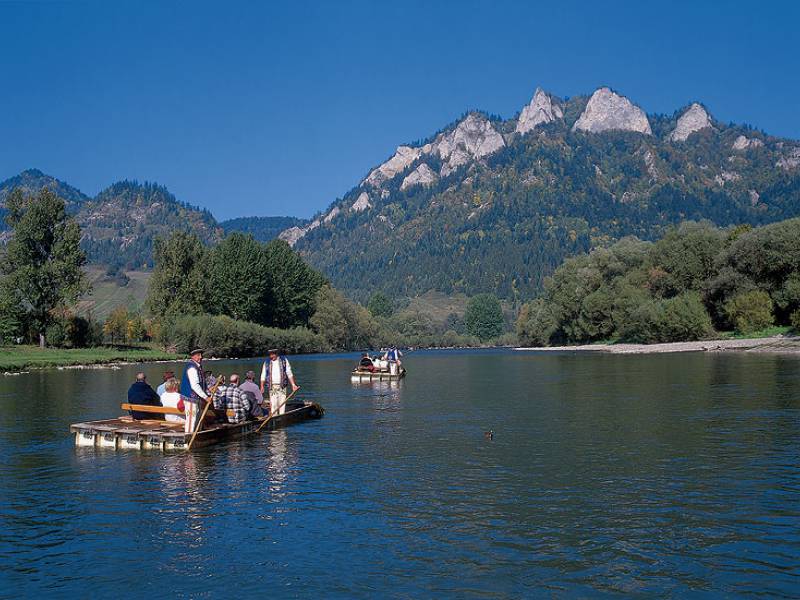 Apart from the man-made Olympic WWR circuit Party Krakow organises a special natural WWR activity on the Dunajec River in the Pienniny and Tatra Mountain region. This event requires a minimum of 6hrs should you decide to reserve it. The scenery, fresh air and white water fun makes for a splendid day out in absolutely stunning surroundings.
The International Rafting Federation (IRF) formed in 1995 governs all international competitive events and has a regulated 6 level classification on the strength of rapids which are adhered too by clubs and associations. Class 1 is considered very basic rough areas requiring little manoeuvring to progressively increase in skill level and difficulty to Class 6 described as almost impossible to navigate cleanly, expect impact damage, possible injuries, wild water with waves and steep drops during rapids, super expert level. The next world championships will be held in China in August 2021 taking place on the Wupai River near the city of Ziyuan.
The Krakow Olympic circuit, naturally, is moderated for the lower class levels over its 350m run. Expert instructors vociferously guide you through the hanging poles you must put the raft through at times and a mild drop in height is experienced on certain parts. The Party Krakow WWR is bookable for 1hr or 2hr sessions with all safety equipment and clothing supplied plus a guide that accompanies you on the transfers and remains with you at the venue. The rafting season runs from April until November every year. This activity is challenging but great fun for all and is commonly booked by corporations to enhance team building strategies for its employees.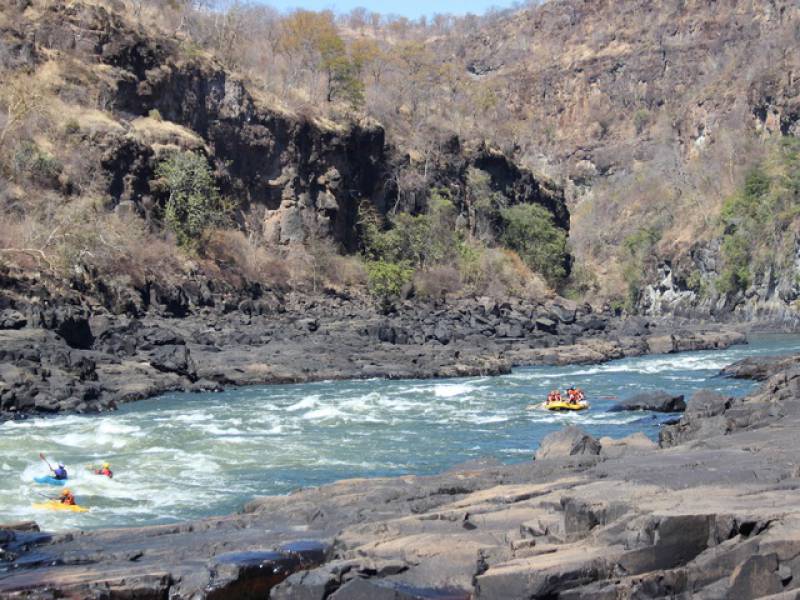 Top level WWR sees some unexpected leaders such as Czech Republic, Brazil and Japan in the top men's ranking spots with only two changes in the women's rankings as 3rd place goes to the GB women's team and Japan women move to 2nd place and Czech Ladies maintain 1st place. One of the world's most difficult and dangerous white water rapids are Victoria Falls on the Zambezi River bordering with Zimbabwe and Zambia, excellent scenery but treacherous currents that will whisk you away to a watery grave if you are not careful. The Class 5 rapid points along the river have names like Stairway To Heaven, Devil's Toilet Bowl and Commercial Suicide, extreme challenges for daredevils. The creation or invention of WWR is accredited to Lieutenant John Fremont, explorer and inventor Horace H. Day, together they came up with the solution to use an inflated rubber to counteract the rocks and boulders on impact and collision. Fremont went on to map and survey the Rocky mountains in 1842 incredibly with his early version of a rubber dinghy which is used today by many first responder services such as coastguards, police and fire rescue along with elite military forces like the SBS, Special Boat Service of the Royal Navy.
Studies have shown that WWR has a great many benefits to a participant with being out in the fresh air and beneficial for cardio and muscle strengthening but most of all for the thrill and adrenaline pumping action moving along a fast and wild river. You have to work as a team to manoeuvre the dinghy through the rapids, an exhilarating experience. The study conclusions state that overcoming the challenges instils more confidence and self-esteem on the boat party members, satisfaction guaranteed.
Click HERE for more details and book one of the most exciting adventure activities you can have in Krakow on your visit.