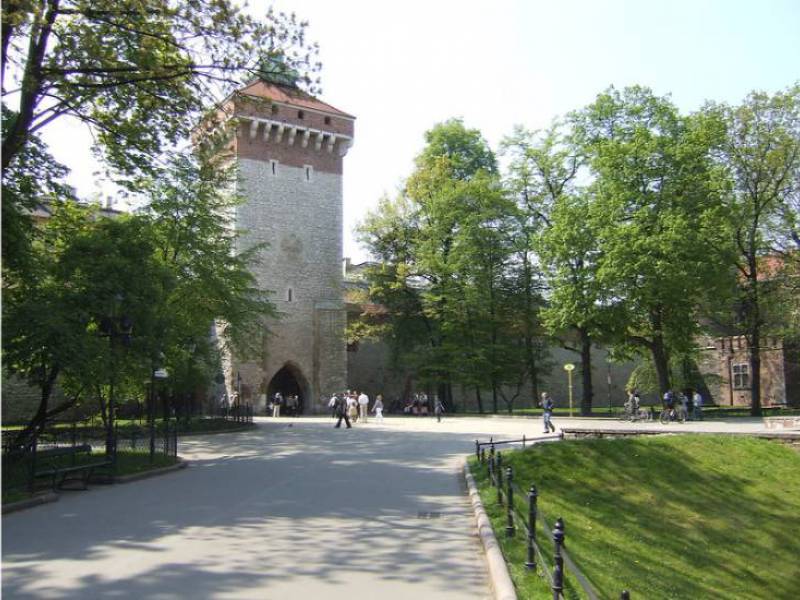 When you visit a new place it is great to see the usual tourist attractions but some of us hanker for a more in-depth and wish for a more diverse approach in exploring your surroundings that you eagerly googled out of interest. No matter how much research you do it will never measure up to living the Krakow experience as a local would on any given occasion.
This is a guide to exploring the enchanting city of Krakow to the full and gaining that satisfaction of being just like a local Krakowian, as the well-known saying goes, When in Rome, Do As The Romans Do.
You have arrived and checked in to your accommodation more than likely in the city centre which is already a great start as you won't be needing public transport or taxis to get around Krakow's vast selection of pubs and clubs mainly concentrated in the two most popular zones the Old town and Kazimierz, the Jewish quarter. In the warmer weather Krakowians love to pass time in the many garden and pavement pubs and that also applies to eating too. There are literally 100s of places and usually they have an indoor or cellar bar option. Many of them are themed pubs exhibiting decoration and furnishings connected with their chosen period or subject, it truly fascinating to visit particular pubs with each one reflecting a certain style and atmosphere rarely found in the more well-known pub chains. Sometimes it is an adventure to find the bathroom due to the different levels and winding corridors in some of the oldest ones. The first thing to take into account is pace rate of imbibing the choice beers, ales, wines & spirits on sale because unlike many countries there is no ringing of the 'Last Orders' bell. That's right, as long as there are people drinking the pub will remain open, so, you don't have down or neck a few in record time then queue at the bar with everyone frantically trying to buy a last round as 'Time' is never called or the pleasure of being hustled out by a security operative with an almost full pint in your hand or finding your drink gone when you return from toilet by an irate pub glass collector who never makes eye contact when doing the job. Relax, this is the first step in visiting Krakow as if you were a local, it's good to know you can enjoy a last round all night while moderating your intake unforced and leisurely. Pleasure drinking effect multiplied.
Vodka, vodka is Poland's national drink like whisky is to Scotland. Contrary to what you have heard or think vodka is not only made in Russia, as you are now a temporary local be sure not to cross the line in comparisons. To drink vodka as if you were a local needs preparation. Locals always drink it with platters of greasy or oily food and never on an empty stomach. This simple but enjoyable snack eating process when knocking back the shots will prevent you from loosing control of your legs when you stand to leave later in the evening and subsequently gain the admiration of your fellow locals should they be present during the session. Step two on visiting Krakow in local mode.
One of the best places to get acquainted with vodka its quirks and origins is the dragon themed pub Mr. Vavelsky Cellar & Garden Bar just off Rynek the main square. Here you can organise a Vodka Tasting Session with the said platters of food served simultaneously with all kinds of vodka shots and some of them set alight to which I'm told also enhances the flavour on particular vodka shots. They also do a super duper version of this as it is combined with a magic show, a magician entertains you while a pro barman prepares the different shots and giving a little story on how these shots are liked so much by Krakowians and the Polish in general. The superb vodka tasting experience is called "The Magic of Polish Vodka"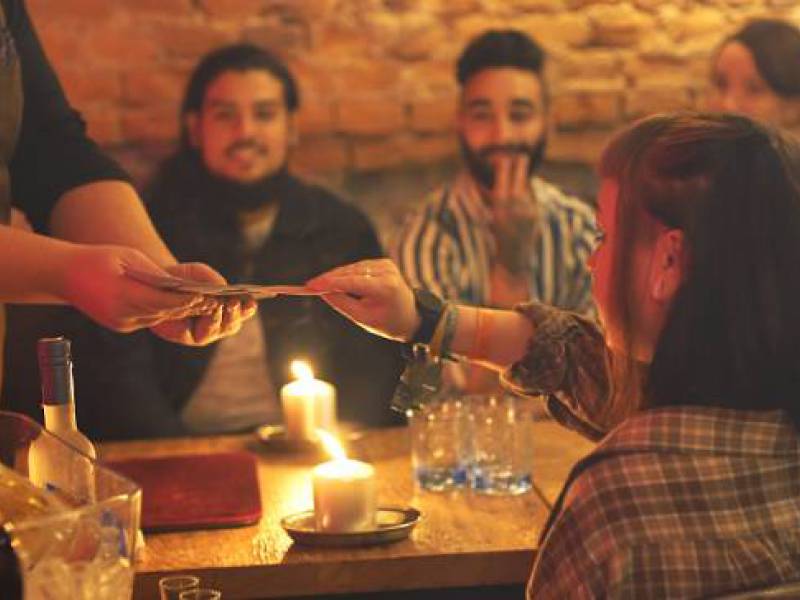 Once you are in Krakow a great way to get to know the pub and club scene is to join or book a Guided Pub Crawl. I would highly recommend this on your first night here as you Guide will take you to the places where locals congregate avoiding the more tourist frequented pubs. This is a unique way to get accustomed and soak up the vibrant nightlife by going to a local hangout with a trusted Guide on hand. You can arrange a Pub Crawl via dedicated companies online before you arrive and it would be same for dance clubs too which offer VIP Club Entry should you wish to make a night of it.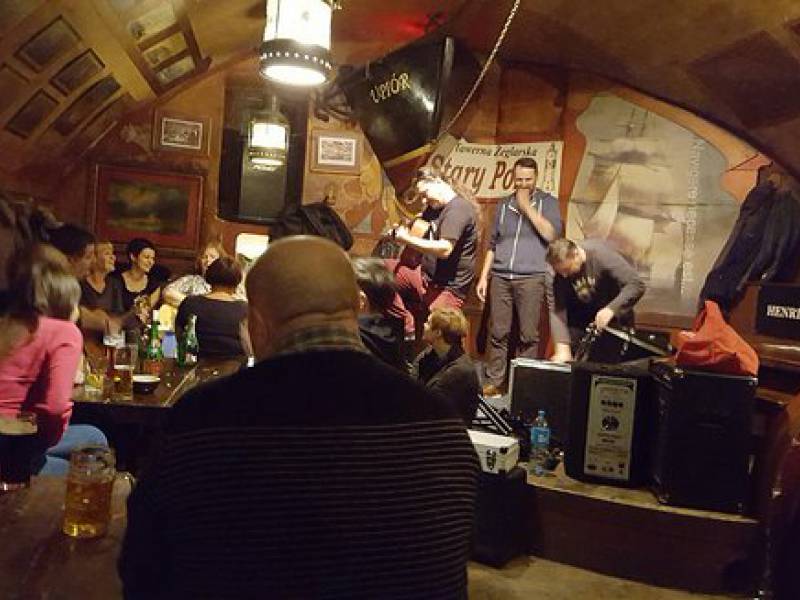 While the Old Town and Kazimierz captivate most tourists there are some side-street attractions which are relatively tourist free, one of them being the pub Stary Port (Straszewskiego 27 - close to another "gem"- Mercy Brown hidden bar), this one has a nautical background, a sailor's shanty bar and is noted for it's live music shows from local or visiting artists playing folk, rhythm & blues to jazz, it's situated just outside Planty, this is the pedestrian ring road around the Old Town. Moving closer to Wawel Castle the young Kracowians go to Szafe Café Pub, plenty of entertainment here with live music, open mic nights and themed parties this place draws all kinds of locals Polish or not. On the other side of the Wawel Castle, a bustling local haunt with old time seen better days furnishings is Don Chichote under the arches (Krakowska 5/3U street). The incredible atmosphere especially over weekends with live music and local bands perched on one of the smallest stages you will ever see play for an international audience of locals, you could be one of them. Don't wear your best gear to this next place, this will be an experience to never forget or never talk about again! Decked out in the old Communism paraphernalia you will be introduced to the Polish Punk Rock and Ska environment, this is Propaganda definitely not found on your usual tourist to do list.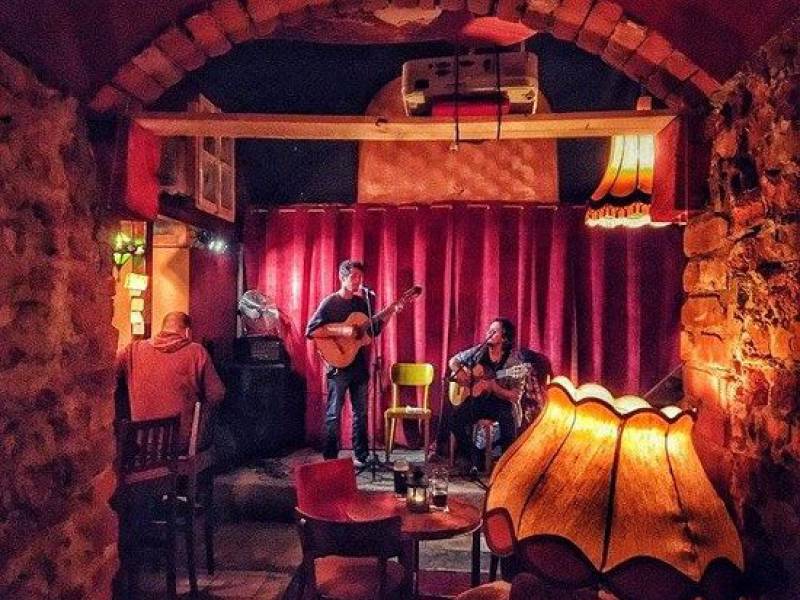 As part of your vodka training to gain any sort of local level or status then a visit to BaniaLuka (plac Szczepanski 6) is a must to upgrade your "I'm A Local"- albeit temporary. Cheap beer and vodka coupled with the necessary oily survival snacks will test your mettle, ingenuity and "I'm not a tourist" notions to the max! BaniaLuka is always full with the Krakow dwellers no matter which nation they originate from.
The most local pub for local people has to be Awaria Live Music Pub, this very atmospheric cellar bar is where all of Krakow's local bands want to play. The reputation for crazy nights and crazy bar girls is well known plus it vants a hidden Beer Garden which is accessed via the stage, so don't get trapped in it when the bands start to play though. Locals galore and the very best in great entertainment.
" alt="" />
Phew! You might well be hungry by this point so a little more info on grabbing a bite to eat as if you were a local. The unusual but traditional Milk Bars or Bar Mleczny in Polish that you will see on your travels around the city are basically socialist cafeterias or canteens that started up at the end of the 19th century and from when Poland was part of the USSR, get back Jojo! Yes, these eating places served hot meals under communist rule when supplies were short so it is very cheap but also healthy and nutritious. These Milk Bars have endured and remain popular today as they were places that could guarantee a meal for workers by obtaining the often rationed food. Meat was very rare to be seen on the menu, hence the name Milk Bar as dairy and vegetables made up most of the meals pre-independence, however, meat is on the menu today and it still remains very cheap and basic simple furniture and the menu on a chalkboard in Polish, so, you'll need to translate before ordering. Great Polish traditional recipes are served of which pierogi is the most common. Pierogi are pasta envelopes similar to ravioli that are filled with various ingredients from cooked vegetables, dairy, meat and fruit they can also be boiled or fried and served with different sauces, fried onions or whipped cream. If you want to go really local then ask for your pierogi in smalec (s-mallets) or lard. Look out for these Milk Bars in and around Krakow Bar Mleczny Tomasza, Smakosz, Poludniowny, Krakus and Targowy.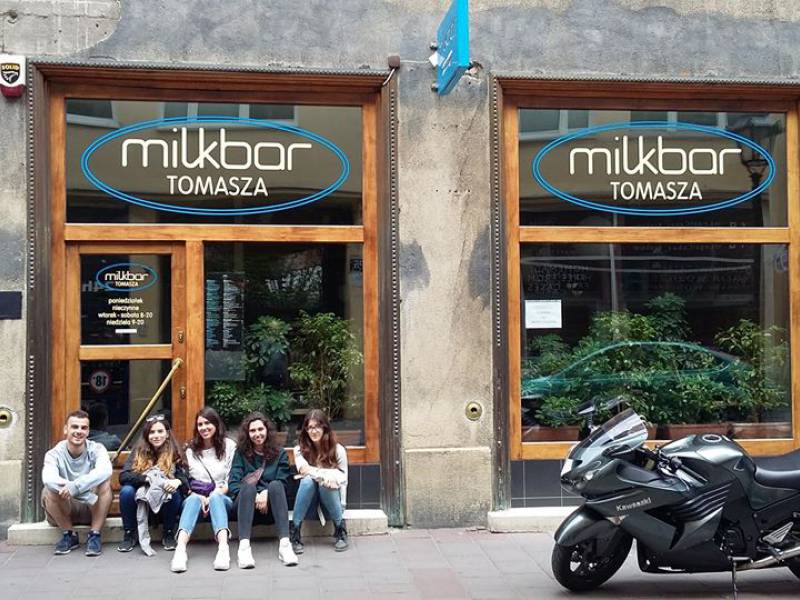 Although Krakow has all the international fast food chains in the city you as a local would want to taste the local street food options and they are good. The kielbasa or Polish sausage is a world of goodness in taste and choice, so much so there is a special van which serves grilled sausages by cooks dressed in white uniforms from a vintage blue ZSD Nysa van, you get a massive sausage in a sour-bread roll and a communist era soda for next to nothing. Everyone flocks to the Kielbasa z Rozna next to Hala Targowa after a night out to devour these tasty cooked sausages just like mother used to do. This kielbasa van is so famous in Krakow that local companies hire them to provide catering for their events and staff gatherings that's how good it is considered.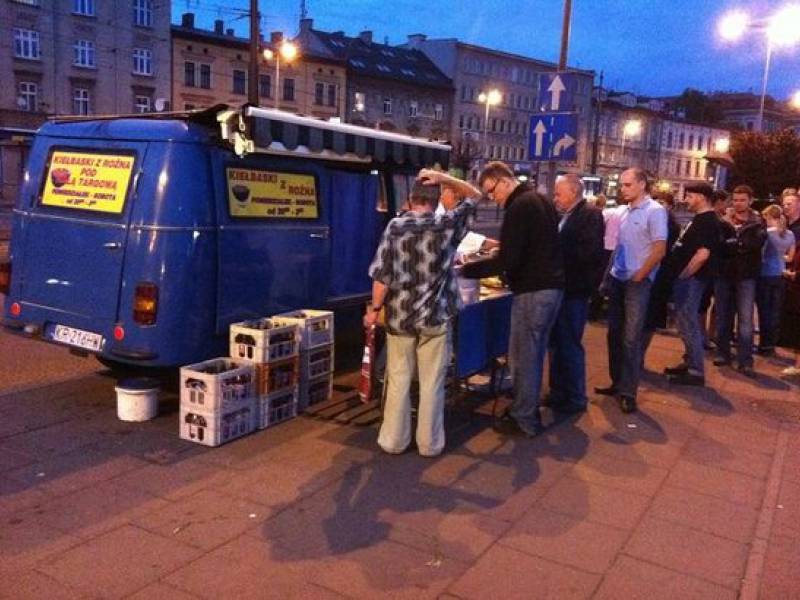 A short distance away is Plac Nowy in the Jewish quarter where the legendary Zapiekanka is sold by the 100s to revelling pub and clubgoers in the area. There are many kiosks in the centre of Plac Nowy serving the baguette like Welsh rarebit with a choice of extra toppings. Another step completed in your I'm a local course notched up.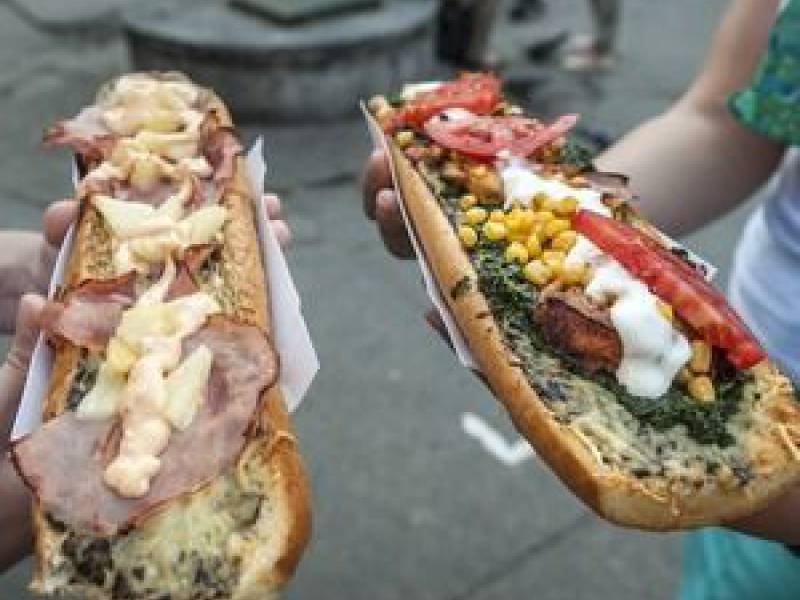 The mighty beefburger is a worldwide favourite especially for the super franchises, however, in Krakow there are some local street food options that will delight you. One such place serving a huge medallion of a 100% beef and cooked while you wait with all trimmings added to the massive bun is Moa Burger near Maly Rynek. Deeply satisfying and plugs the hunger hole, they also offer vegetarian burgers too. To really enhance your culture visit to Krakow like a local would be to try one of the typically Polish style burgers the Maczanka, a Krakowian pulled pork recipe with all the added extras including ogurek or gherkin. The Andrus Food Truck has a reputation for maczanka and you will find the Andrus Truck along with many other street food trucks that gather in Kazimierz on Skwer Judah or Judah Park. This particular zone has a collection of food trucks offering burgers, sandwiches and sweetmeats. If you like jacket potatoes then look for Pan Kumpir's truck because they do something quite special and take the jacket potato to a tastier level.
Krakow has been voted Best City to Eat In for a second consecutive time and voted three times Best European Destination to Visit. Krakow will always offer that extra surprise with its vibrant nightlife and day time city attractions. As a visitor looking for the local traditions, ways and lifestyles it is all here, all you have to do is ask, you will find that all Krakow city dwellers will be proud and more than happy to assist you in gaining your I'm a Local badge of honour.
When in Krakow, Do as The Krakowians Do and with a vodka shot in hand I salute you, Na Zdrowie or Good Health!