Polish cuisine has a long history and some traditional recipes have been around since 14th century. The main staple Polish diet or dishes are based on meats such as pork, beef and chicken with a wide choice of vegetables cooked and prepared in a variety of ways to provide a hearty and calorific meal according to Poland's snowy winter which can reach extreme minus temperatures and in hot summers of more than 35°c at times. Early on cereal based recipes were the main ingredients until the potato arrived in Poland around 1650 by King John III Sobieski after a royal visit to Austria of all places. Beer, vodka and compote compliment many Polish recipes and these days a rising popularity to have wine accompany the meal is not uncommon.
Poland is one of the few countries where the majority still have the 12 dishes on Wigilia or 24th December being the catholic Christmas Eve celebration and exchange gifts too, the 12 dishes represent social status, the 12 Apostles and the 12 months of the year. Also, Easter morning breakfast is held in high favour with a splendid array of mainly cold cut meat dishes to tuck into and enough to last until Dyngus Day the day after Easter Sunday.
Polish people love their soup starters and they have a soup for every occasion, I counted 20 different regional varieties with ingredients ranging from tomatoes to beetroot, pumpkin, duck, potato, pea, chicken and sour cream plus meat based soups. The Highlander recipes are extremely popular with such delights as a pork knuckle, goulash & potato pancakes, naturally with a soup to begin with. The dessert choices are scrumptious too with doughnuts, apple pie and a cream waffle called Napoleonka.
The many types of bread found is incredible, all kinds of regional loaves baked fresh every day and to put the finishing touch on your dinner choice the soups are even served in hollowed out bread loaves doubling up as soup bowls.
Polish culinary influences around the world are usually eloquently described in restaurants as 'A la Polonaise', in French surprisingly which could be understood as a compliment considering the reputation of haute cuisine that French cooking is famous for.
Here is a guide to introduce yourself to the excellent world of Polish cuisine. Let's start with the first meal of the day, breakfast.
Breakfast or Śniadanie the early morning one consists of the usual tea & coffee with a simple plate of bread and pasztet which is a meatloaf or similar to pate with cheese and mayonaise. Then comes the late morning version Drugie Śniadanie or 2nd breakfast, which is as the earlier one but with sausages, cold cuts, scrambled eggs and possibly beer, wine or vodka depending on your circumstances, however, in today's modern times the 2nd breakfast is usually practiced during holiday periods or business meeting hospitality.
Lunch and/or Dinner, minimum 3 courses starting with a soup of course, the most widely chosen or available in restaurants depending on the season and time of the year are:
Rosol or chicken soup
Zupa pomidorowa or tomato soup with pasta or rice
Barszcz or beetroot soup with Polish ravioli called 'Uszka' or little ears filled with mushrooms.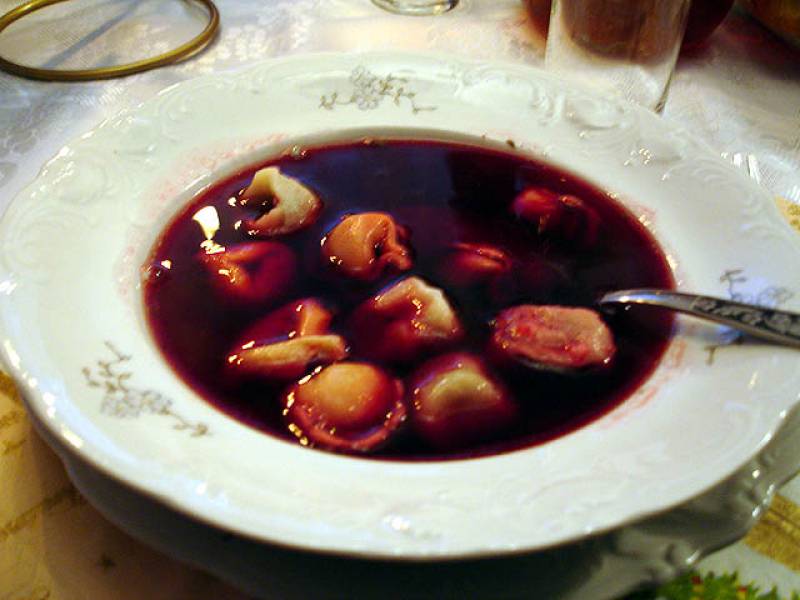 Żur or Żurek or rye soup with sliced white sausage, half of a hard-boiled egg and potatoes pieces, best if served in bread (btw- you can try Zurek soup as a part of the Brewery Feast from our offer, along with delicious beer marinated pork knuckle served on a spit roast)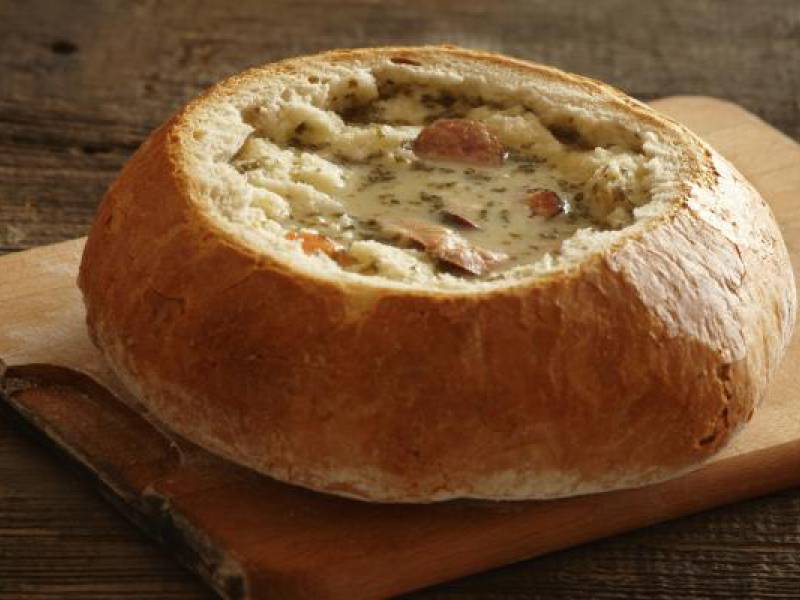 Grochówka or pea soup with chopped carrot and sausage.
Zupa Ogórkowa or gherkin soup, served in a pickled dill broth with pork pieces.
Kwasnica
As mentioned before these soups may be served in real bread bowls to add to the enjoyment.
Main Course, the most popular choices are:
Bigos or Hunter's Stew made with sausage, cabbage, sauerkraut, onions and spices plus a smattering of other ingredients like pork or beef.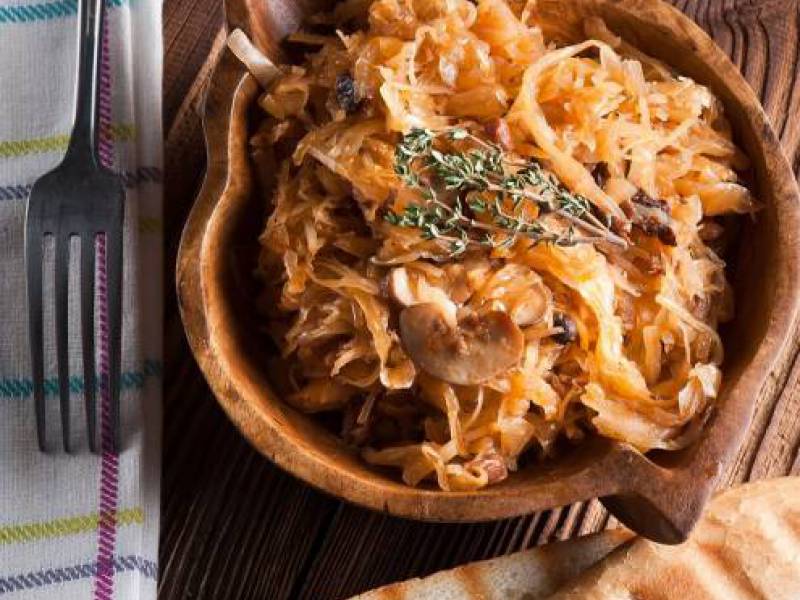 Golonka or pork knuckle served with roasted sliced potatoes, horseradish and sour cucumbers – as mentioned before, this one is a great option for stag groups – you get a huge pork knuckle marinated in beer, with crusty skin. The whole gig is held at the local microbrewery, and yes- you get 1L of freshly brewed beer served in beer tubes ( check our Brewery Feast stag dinner)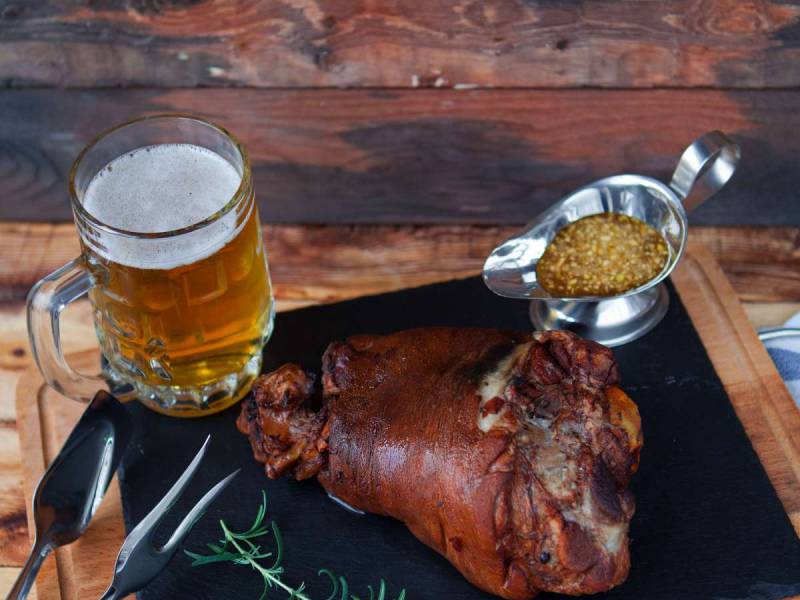 Kotlet Schabowy or pork cutlets cooked in breadcrumbs served with potatoes, and preferably mizeria or Kapusta zasmazana fried sour cabbage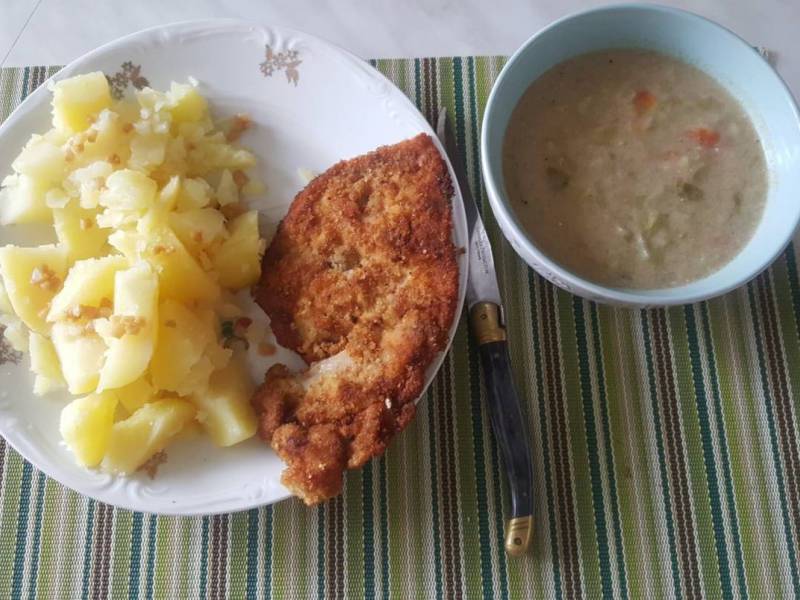 Gulasz & Placki kartoflane or goulash with fried potato pancakes.
Pulpety or beef meatballs
Filet z pstraga or trout fillet cooked with batter and herbs served with chips- Polish style fish 'n chips.
Golabki which translates literally as "pigeons", however has nothing to do with these birds- Golabki are more like cabbage spring rolls stuffed with minced meat and rice or cereal. Served on its own or with tomato/mushroom sauce
One particular dish that deserves a mention all on its own is Pierogi ! There are specialised venues called Pierogarnia that sell Pierogi or ravioli but instead of square shaped they are half-moon shaped pasta envelopes with different flavoured fillings that range from minced meat, cheese, spinach, cabbage, sauerkraut, potato, mushroom and seasonal fruits.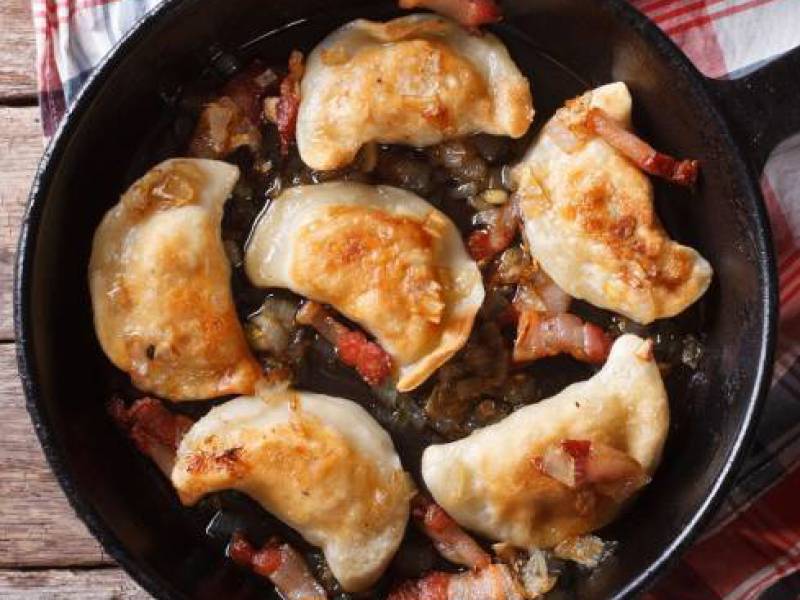 Pierogi can be boiled or fried and served with fried onions but the fruit ones come with whipped cream. This very traditional Polish dish has existed since the 13th century and there are folklore stories on how they came about, some say Marco Polo brought the recipe back from his Silk Road trade from China to Rynek Square in Krakow being Europe's main silk trade centre whereas others say they originated from St. Hyacinth of Poland who brought the recipe from today's Kiev in the Ukraine that was once part of Poland in the past. Whichever folklore story you prefer to side with an evening in a pierogarnia is not to be missed.
Side Dishes, to compliment the main dish a salad of some description is served separate from the main dish. Poland has a healthy selection of home-grown vegetables for you to choose from.
Mizeria, sliced cucumber in sauerkraut with a sprinkling of dill or parsley.
Kapusta zasmażana, fried onions with sauerkraut, pork, peppers and spices.
Sałatka Jarzynowa or traditional Polish vegetable salad with cooked beets, tomato, potato, carrot, parsley root, celery root, pickled cucumbers, hard-boiled eggs with mayonnaise and mustard sauce.
Sałatka wiosenna or Polish Spring salad with chopped radishes, green onions, asparagus, peas, hard-boiled eggs or diced cheese, mayonnaise and paprika.
Dessert, If you have a sweet tooth then Polish sweetmeats will not disappoint you although there is a great deal of choice not all cakes and sweets are available in restaurants, so, listed are the most popular desserts included on restaurant menus.
Sernik is a type of cheesecake made with fresh cheese called twarog, vanilla, lemon peel or orange peel also various fresh fruits are added with an option of chocolate drizzle with coconut-flakes or nut sprinkles but the luxury version has a jelly layer with fruit.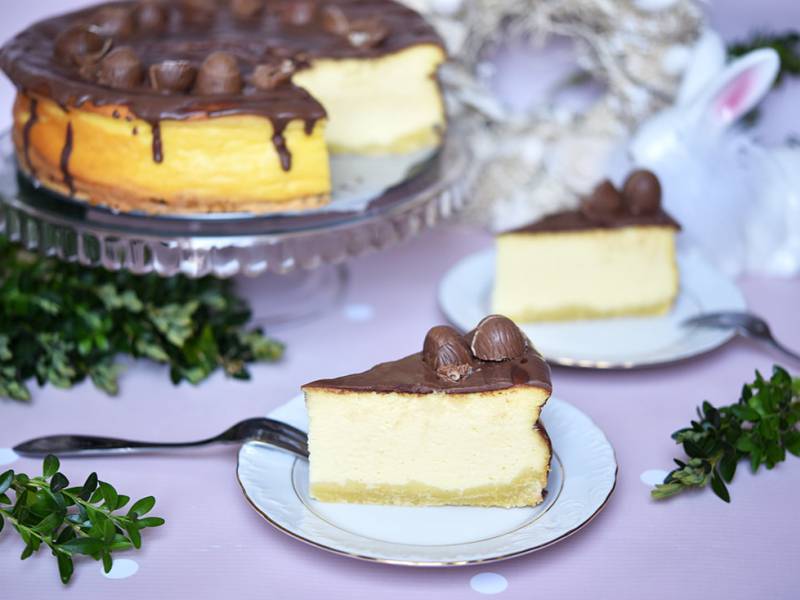 • Makowiec is very similar to Swiss roll but the ingredients are poppy seeds with raisins and walnuts rolled up in the pastry.
• Racuchy are delicious apple pancakes often served with vanilla icecream.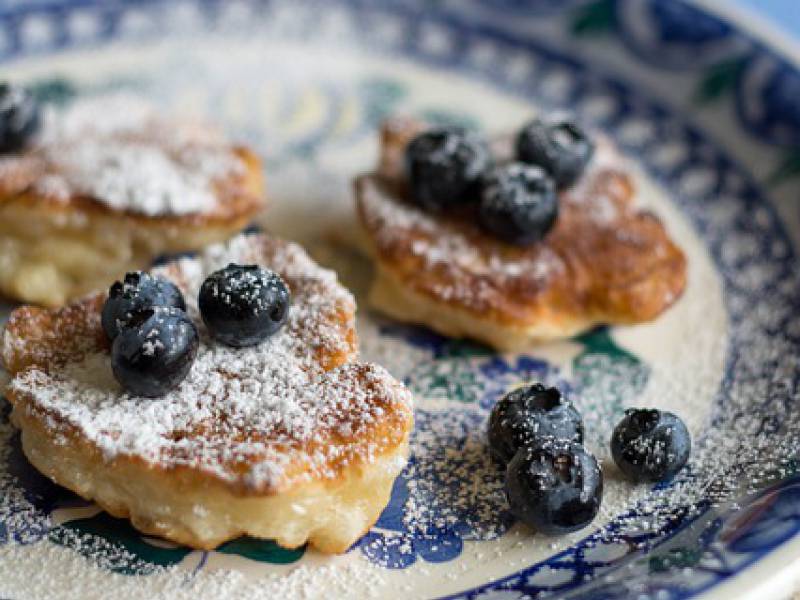 Wuzetka originally made in Warsaw but soon travelled the country this chocolate and cream layered sponge cake is a national favourite.
Kisiel which is a jelly-like thick flavoured sauce with mixed seasonal fruit akin to a Macedonia dessert popular in Mediterranean areas
Pączki vel donuts - dip-fried and most frequently stuffed with rose jam filling, topped with frosting and candied fruit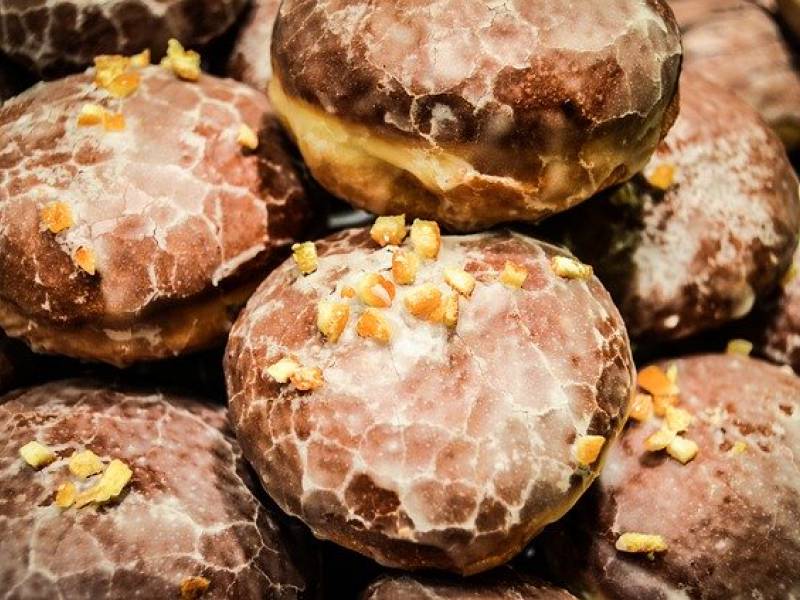 The above suggestions are very good local dishes that have proven to be popular with non-Polish visitors to restaurants. However, Poland has a wealth of culinary choices to indulge in or discover outside the restaurant service.
Krakow in particular has its Street Food Trucks which congregate in the Jewish Quarter, Kazimierz on weekends in Judah Square to be more precise. You can sample these quality cooked snacks that would be a crime to call them fast foods. The international beef-burger is something quite special along with jacket potatoes from the Pan Kumpir Truck and a Polish delicacy called a Maczanka Sandwich which has tender slow cooked pulled pork with all the trimmings from the Andrus Truck. You will also find vegetarian dedicated trucks and the famous Hala Targowa grilled sausage blue Nyska van, the legendary communist style sausage in a bun. Belgian fries and British Fish 'n Chips also on sale. Nearby is Plac Nowy in which the central kiosks offer the Polish equivalent to a Welsh Rare Bit, a long baguette style bread roll with melted cheese and an array of toppings to add according to choice.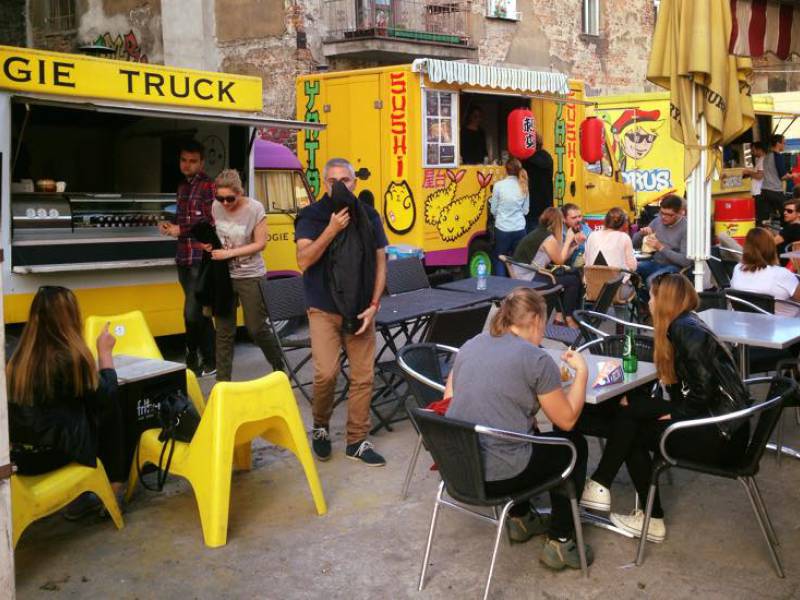 There are many sweet cakes and snacks available in shops and bakeries such as Angel Wings or Faworki in Polish, deep fried pastry dough in twisted ribbon shapes with an abundant sprinkling of powdered sugar to finish. Doughnuts or Paczki are an outright favourite and come with assorted jam, fruit and cream fillings or covered in icing or chocolate. If you stop in a café invariably there is a dessert choice and gingerbread is always a good choice, this particular gingerbread is soft and coated in chocolate and is a traditional sweet originating in Torun in the Middle Ages and just as popular today as back then, look out for Pierniki, your heart in ginger, scrumptious. If you prefer a sweet bread then get yourself some Chalka or Challah bread. It is a Jewish recipe of a braided bread formation and very good with butter and jam. Challah is old Hebrew meaning bread and still used in religious ceremonies.
The Polish śliwka w czekoladzie or chocolate coated prune is found everywhere in cafes, shops, supermarkets and petrol stations, this well known delight is a big winner with people and produced by major companies as well as artisans also the cherry version should be tried too. Another traditional Polish sweet is fudge, yes, a soft toffee fudge called Krówki which means little cows, only that it is fudge made with the Holstein cow's milk. These too are produced by companies and artisans alike and have a crispy outer layer with the soft centre so it doesn't rip your dental fillings out, if you know what I mean.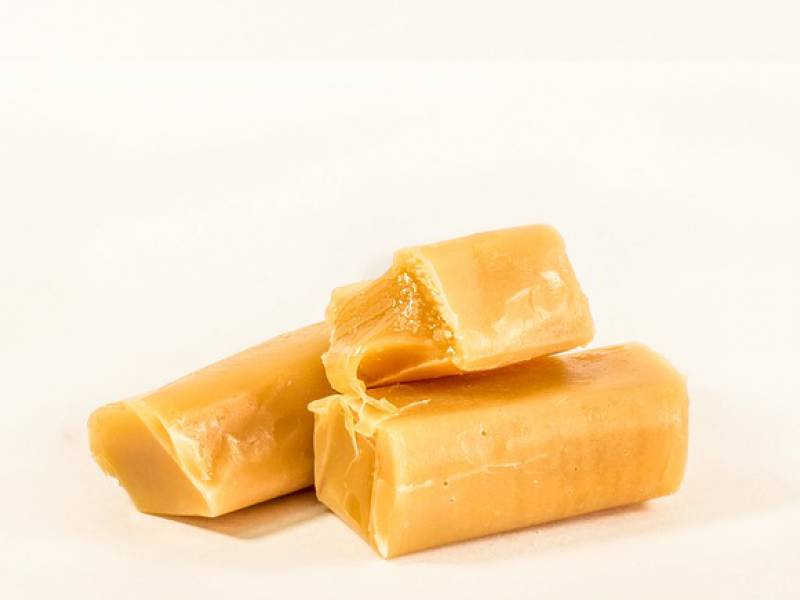 On every street corner the ever present Obwarzanek Krakowski stalls, everyone in Poland buys an obwarzanek twisted or plaited bread roll on the way to work or school. This popular snack which may translate to a bagel or pretzel is a tasty morsel any time of the day, a crusty outer layer covered in poppy or sesame seeds revealing a soft and sweet tasting bread centre that is obtained by boiling the dough before baking. This ring shaped delight was first made for a 15th century Polish King and as since remained a Polish tradition and cultural belief for hundreds of years. Also deep in Polish sentiment is Grilled Oscypek i żurawina that is to say grilled smoked goat's cheese with cranberries. Found in the many street market areas, the cheese itself comes from Zakopane a city in the Tatra mountains, this special smoked goat's cheese made by the highlanders from the region is sold all over Poland.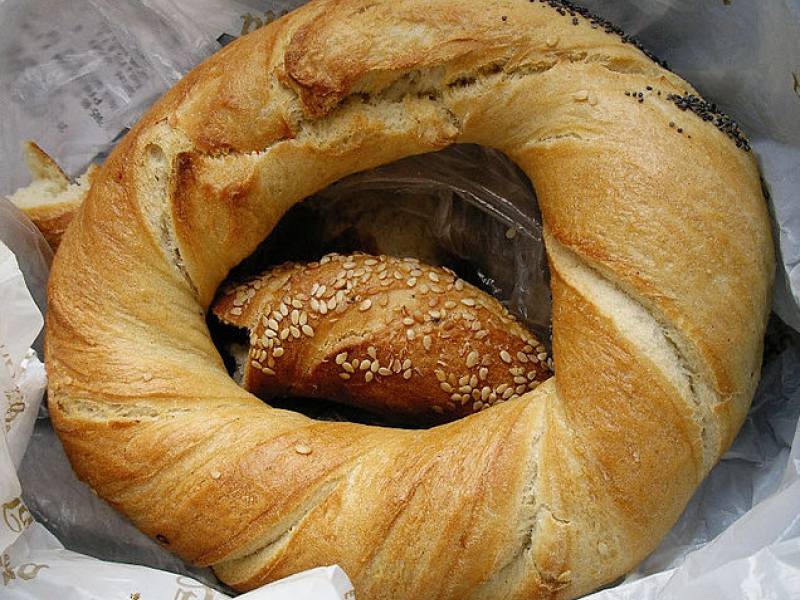 A lot of the Polish recipes are suited to beer or vodka as the preferred beverage but compote as a non-alcoholic alternative is also available and often brought to your table with the complimentary bread basket. Today most places offer a wine list for you to sip while eating. One style of restaurant or maybe better described as a cafeteria are Poland's late 19th century Mleczarnia Nadświdrzańska later to become known as Bar Mleczny or Milk Bars. No wine in this popular economic eatery with a menu based on mainly dairy and vegetarian meals for the average person. They were important for the population during both world wars and especially during the communist era where they provided a canteen like system for factory workers. After the fall of communism these Milk Bars became part of the welfare state as food was once again rationed and as Poland recovered economically the bars declined until a resurgence in the 2000s when the milk bars became a trendy but nostalgic place to eat a decent and cheap meal. Today you can have lunch or breakfast and eat pierogi, omelettes and vegetarian meals much in the same style as before the revived trend. The bars are simply furnished almost minimalistic and the menu is written in chalk on a blackboard, however, in these modern more affluent times you can find simple meat dishes included too. A visit is recommended as they are very much a cultural aspect of Poland's long European history.
So, If you are organising a Krakow stag do, make sure you come hungry as there is a lot to delight your palate and excite your taste buds ! We can advise you on the choice of restaurants for your Polish style stag dinner, of if you prefer book you into one of them.
Smacznego (bon appetite in Polish) !